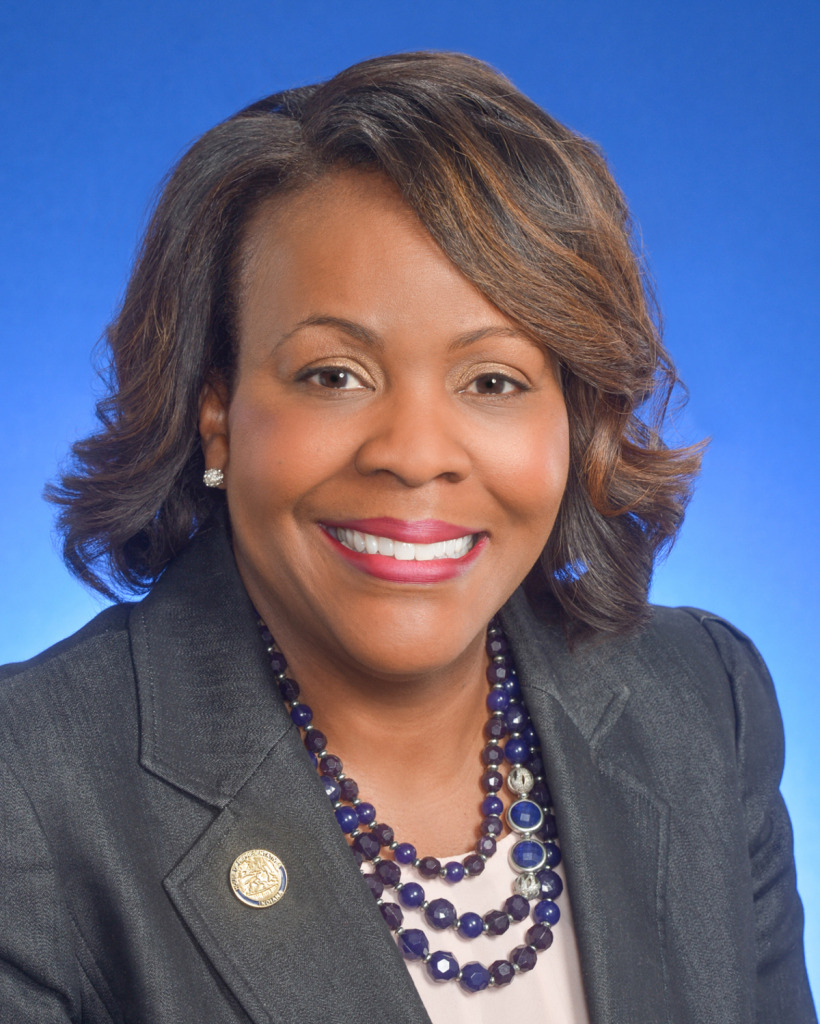 State Rep. Robin Shackleford, current chair of the Indiana Black Legislative Caucus, is pondering a run for Indianapolis mayor in 2023.
Her candidacy would set up a potential Democratic primary battle with Mayor Joe Hogsett, who has yet to say whether he will seek a third term or address speculation about a possible run for governor or U.S. Senate in 2024.
Shackleford, whose potential run for mayor was first reported by the Importantville political newsletter, told IBJ that she won't make a final decision on a mayoral bid until next month. She said she is "looking into it right now and just listening and meeting with people."
Shackleford is among several Black Democrats who have expressed dissatisfaction with how the Marion County Democratic Party has been run during Hogsett's recent tenure as mayor.
Former Democratic Party Chair Kate Sweeney Bell, whom Hogsett supported, resigned last month after being publicly criticized by Shackleford and others beginning in February.  They accused her of "discriminatory" candidate slating practices and expressed concerns about conflicts of interest between Sweeney's roles as party chair and an elected officeholder. Sweeney is the current county recorder and is running for county clerk.
Shackleford led a group of Black candidates who refused to participate in this spring's Democratic slating. After the May primary, Hogsett called for an end to Democratic Party slating, a process by which candidates agree not to run in a primary if they are not the party's endorsed candidate. Hogsett expressed support for open primaries.
Hogsett, who is 65, isn't expected to reveal his plans on whether to seek re-election until after the city budget is finalized, Shackleford said. The budget is expected to be up for final approval at the full City-County Council meeting on Oct. 17.
Shackleford, 51, said the timing of Hogsett's announcement won't impact her decision. "My candidacy will not depend on anyone else's candidacy," she told IBJ.
Hogsett's office declined to directly respond to questions to about the mayor's political future, saying only that Hogsett was focused on finalizing the city budget.
Shackleford has some city government experience. She worked for former mayor Bart Peterson, as well as in project management and lobbying.
She currently represents eastern Indianapolis in the Indiana House of Representatives. She is running unopposed for re-election to that seat in the November election.
The Republican supermajority at the Statehouse has prevented her from passing much legislation of her own. Earlier this year, she authored bills regarding health care, childcare, small business development and racial bias training in hospitals, but none passed.
If Shackleford decides to run for mayor and wins, she would be the city's first Black mayor and its first female mayor.
IBJ reporter Peter Blanchard contributed to this report.
Please enable JavaScript to view this content.