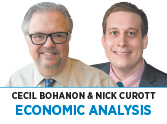 U.S. dollar inflation has hit the highest rate in years, causing some to speculate that the dollar's day has come. A more modern currency, such as Bitcoin, could become the world's preferred money. Its supply is limited to a known quantity. Interestingly, El Salvador has made Bitcoin legal tender.
Nevertheless, we don't think Bitcoin will supplant the dollar anytime soon. The main reason is Bitcoin's value is far too volatile. Tomorrow a bitcoin might be worth 10% more, the next day 10% less. Imagine getting paid in something and having no idea how much it will buy when payday comes. While a volatile asset may potentially be an investment opportunity, it is not something that households or businesses want to use as money.
Another roadblock for Bitcoin is that money is a network good. Most people don't care whether their cord plug is one size or another, they just want it to be one-size-for-all so it fits all the outlets in the network. The same thing goes for money. Everyone wants to use whatever money everyone else uses and accepts in payment. The incumbency of the dollar gives it a strong advantage.
Nevertheless, people do switch currencies if the advantage is big enough. Look no further than Ecuador, or any other country that has "dollarized" by switching spontaneously from the local currency to dollars. However, evidence from around the world suggests that individuals don't abandon their domestic currencies until the domestic inflation rate hits at least 15% or more.
The world might switch to Bitcoin if dollar inflation gets that high. But even given all the recent dollar printing, it seems unlikely U.S. inflation will go there. And even if it did, it is likely people would switch to another fiat currency such as the Euro. Countries that have tried to ban Bitcoin have not been able to stamp out its use. But they have driven it underground. If a blockchain currency does become money, it will likely be issued by a central bank.
Nevertheless, the notion that something could supplant the dollar as the world's currency is not entirely farfetched considering the exploding dollar printing and indebtedness of the U.S. government. Black swan events do happen. Smashing dead trees and imprinting them with the likeness of U.S. presidents is 18th century technology. But it is unlikely that a private blockchain currency will replace fiat currencies in the foreseeable future.•
__________
Bohanon and Curott are professors of economics at Ball State University. Send comments to ibjedit@ibj.com.
Please enable JavaScript to view this content.