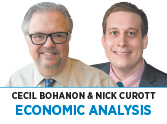 The holiday season is traditionally when we give thanks. To say the COVID virus has dampened the holiday spirit is a bit of an understatement. More than 250,000 people have died in our country. Hospitals are overflowing. And many of the festive parties, dinners and traditional observances that highlight the season aren't going to happen.
But before we throw a pity party, perhaps some solace can be found in noting that our forebears got through pandemics that were much more devastating. If COVID were as lethal as the Black Death of the mid-1300s, we'd be looking, conservatively, at 100 million deaths. Nowadays, we take it for granted that we are approximately 30 times more affluent than our medieval forebears. Upon reflection, this is something of a miracle. Such affluence allows us to do things like develop effective COVID vaccines in record time. But what led to this increased affluence?
While many attribute our high living standards to capital accumulation, we are convinced by our economist colleague, professor Deirdre McCloskey of the University of Illinois-Chicago, that credit should go to our modern system of "market-tested betterment." The following example illustrates the distinction.
In 1850, ice was available in the heat of summer, but at a high cost: around $65 per bag in today's prices. Ice was harvested in the winter from lakes and ponds and stored in insulated ice houses for later use. Today, ice is available in August for around $1 a bag. According to the "capital accumulation" theory of betterment, the falling price is attributable to investments in more ponds and icehouses. But this is absurd. Clearly, it was market-tested innovations in ice making, first in commercial settings and then in home refrigerators, that makes ice so cheap. Investments are a necessary but not sufficient condition for innovation.
Moreover, innovation only betters people's lives if adopted, and only a market-test can assure it is truly an improvement. Every day, entrepreneurs introduce new products and production processes. Some ideas sound good but fail. Others sound inane but revolutionize people's lives. Anyone can try an idea, and successes yield profits that are quickly copied.
This is why McCloskey argues that the moniker of capitalism, a term invented by Karl Marx, is really quite "silly." It is not accumulated capital that leads to betterment "but [an] explosion of human creativity, tested always by the market." Market-tested betterment— something to be truly thankful for.•
__________
Bohanon and Curott are professors of economics at Ball State University. Send comments to ibjedit@ibj.com.
Please enable JavaScript to view this content.