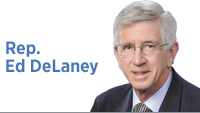 Some 200 years ago, fresh from achieving statehood, Indiana created a state university. Indiana University has risen to national and international prominence in fields from languages to cybernetics.
Promptly after the Civil War, the state created Purdue University using Lincoln's Land Grant system. Purdue is now at the heart of agriculture and engineering, from the Wabash to Asia. Over time, we have turned Ball State and Indiana State from "teachers colleges" to full-blown universities.
Apparently, the present General Assembly wants to put all that behind us. This year's budget added no new dollars for higher education facilities and chose to restore only part of the cuts made at the start of the pandemic. No funds were provided for new buildings, whether designed for health care, nursing or agriculture. The universities are left to deal with student-loan debt and the effort to lower tuition on their own.
So, where did the billions of newfound federal and state dollars go to? Not to building up our time-tested success stories: our institutions of higher education.
If you want to find where dollars went and why, let me make two suggestions. First, look to amounts specified and to ill-defined reserves set up in the newest budget. Second, look at how the supermajority views educational institutions (note that both of those words matter).
The budget just adopted quite rightly separates the extra billions sent from Washington from our own tax revenue. The federal funds are dealt with in section 26 of the budget.
The allocations start quite gently, providing such things as bonuses and body-camera funds to public safety employees (some $40 million). Hiking and biking trails are boosted ($60 million), along with broadband expansion ($250 million). Then things get interesting: $500 million for the unemployment insurance fund, which is usually funded by employers, and $75 million for the newly created "Career Accelerator". A hefty $500 million is set aside for the new Regional Economic Acceleration and Development Initiative. (Happily, this was shortened to READI by the chief acronym officer.) Additional funds go for health efforts, water infrastructure, etc.
Getting back to state dollars in section 30, we allocate $550 million for capital reserves that "may" be used for such things as a consolidated campus for the blind and deaf schools, improvements to the GM stamping plant site "or for another purpose." These allocations look more like real estate plays than considered investment plans. Let's not linger on the $400 million specifically set aside to reconstruct the prison at Westville since the universities do get some $30 million to $40 million per year for upkeep. Upkeep.
What do these vague spending plans tell us? First, to be fair, the supermajority was ill-prepared for this largesse. It has had only two ideas: Cut taxes and build the surplus. There were too many dollars for this. So, the Republicans forgot tax cuts, having already done all of them. Then, they put funds into tin cans buried on Statehouse grounds.
At least, that is how it looks. We literally have no way to know how these new programs will play out since they are neither detailed nor based on any prior success. So, we have chosen untested ideas over proven institutions. "Regional Cities" died on the vine, so let's try Regional Economic Acceleration, etc. Proven educational institutions are to be ignored, along with their proven success.
Hated federal funds will be accepted, but not wisely used.•
__________
DeLaney, an Indianapolis attorney, is a Democrat representing the 86th District in the Indiana House of Representatives. Send comments to ibjedit@ibj.com.

Click here for more Forefront columns.
Please enable JavaScript to view this content.