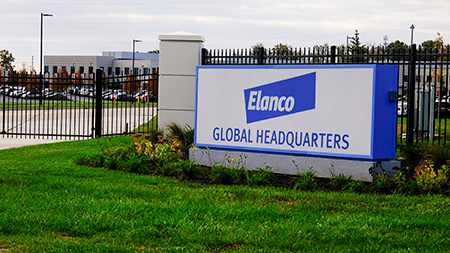 Shares of Elanco Animal Health Inc. jumped more than 5.7% on Friday morning after the Greenfield-based company said first-quarter adjusted earnings more than tripled last year's results, beating Wall Street's expectations. The company raised full-year guidance.
It was the best quarter yet for Elanco since its spinoff from former parent Eli Lilly and Co. in 2018.
The company, which makes animal vaccines, feeds and other products for livestock and pets, reported adjusted quarterly earnings of $182 million, or 37 cents a share, up from $54 million, or 13 cents a share, a year ago.
Wall Street was expecting adjusted earnings per share of 23 cents, according to Benzinga.
Without adjustments, Elanco reported a net loss for the first quarter of $61 million, up from $49 million a year ago.
Elanco reported charges of $108 million in the quarter for restructuring, asset impairment and other costs, much of it related to the $6.9 billion acquisition in August 2020 and subsequent integration of the animal health unit of German conglomerate Bayer AG.
Elanco, which previously reported hundreds of layoffs related to the integration, did not report any additional layoffs on Friday.
"Over the past two years, we have made several hard strategic decisions," Jeff Simmons, president and CEO, said in written remarks. "Today we are seeing the payoff from those choices, and from the disciplined execution that I believe truly sets Elanco on a path to be a global animal health leader."
Elanco said revenue climbed 88% in the quarter, to $1.24 billion. For the first time, the pet business accounted for more than half of the company's revenue, contributing $645 million, or 52% of revenue. The farm animal business contributed $578 million, or 47% of revenue.
The company said it remains on course to launch eight new products this year.
Elanco raised its full-year guidance for adjusted earnings per share to a range from $1 to $1.06. That's up from guidance in February, which was in a range from 90 cents to $1.
Shares in Elanco were trading at $32.81 Friday morning, up 5.7% or $1.76.
Please enable JavaScript to view this content.