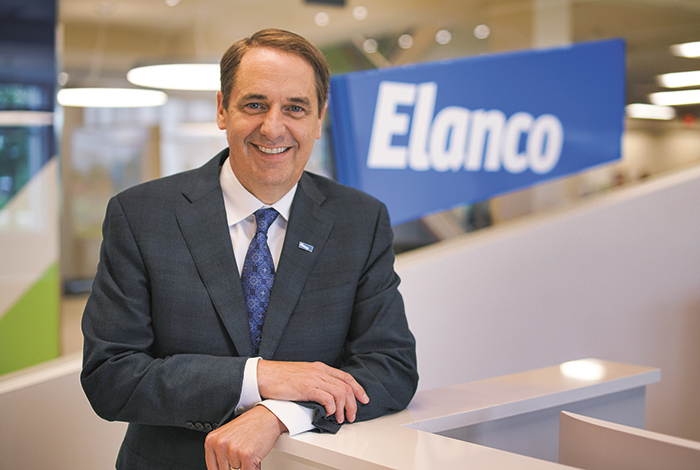 Now comes the hard part.
Elanco Animal Health Inc., which just closed its massive, $6.9 billion acquisition of German conglomerate Bayer AG's animal-health division, must now swiftly and carefully integrate the two sprawling companies in the midst of a pandemic.
And it has to do that while huge parts of the industry are in turmoil, from meat-processing plants hit hard by COVID-19 to veterinary offices that are still trying to woo pet owners back into their clinics.
Meanwhile, Elanco has to reassure employees who are doubtlessly nervous about their future, thanks to the $300 million in savings CEO Jeff Simmons has promised investors.
It's a critical time for Elanco, the maker of animal vaccines and pest-control drugs, which spun off from Indianapolis-based drugmaker Eli Lilly and Co. less than two years ago and has been trying to make its mark as an independent player in turbulent times.
The combination of Elanco and Bayer Animal Health instantly boosts Elanco's workforce from 5,800 to about 10,000 and pushes its annual revenue from $3.1 billion to $4.6 billion. It also catapults Elanco from fourth place to second place in the $33 billion worldwide industry, behind only New Jersey-based Zoetis Inc.
Simmons, for his part, is giving only a few clues about how he will undertake the integration. He said most details will stay under wraps until an investor conference in December.
He talked up the benefits of the deal at length in an interview with IBJ, but he declined several times even to say whether Indiana—now home to about 2,100 employees in Greenfield, Indianapolis, Terre Haute and Clinton—would gain or lose workers. He also declined to say whether the headquarters would remain in Greenfield.
"We have a long history here, a long legacy, and great relationships," Simmons said. "I speak very highly of the state and local governments. But again, [the headquarters location] is not something that is front and center as a key decision right now for us."
Elanco has been based at Progress Park industrial park on the north side of Greenfield since 2010, spread out in five buildings over 20 acres in a location highly visible from Interstate 70. Before that, it was about five miles away, near U.S. 40 and Meridian Road. Today, about 950 people work at the headquarters in administration, research and development, sales, and other functions.
Integration challenge
Some observers say Elanco management will have a huge job on its hands, trying to mesh two large companies based on different continents, with thousands of workers, sales in 90 countries and operations from Brazil to China.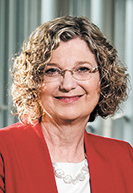 "It goes without saying that integrating deals of this magnitude are always difficult," said Idie Kesner, professor of management and dean of the Kelley School of Business at Indiana University in Bloomington. "And when you're facing an uncertain environment, whether it's COVID-related or other things, then that adds a layer of complexity to acquisitions."
She added: "What we're going through right now is a challenging environment, and tremendous uncertainty. And that's not just economic uncertainty, but it's also political uncertainty and health-related uncertainty."
Elanco knows about the challenging environment. Its two major business lines—pet medicines, and feed additives and vaccines for livestock—have taken a beating from the pandemic.
Business at U.S. meat processing plants fell by as much as half, primarily for pigs and cattle. And while demand has rebounded somewhat as the plants have started to recover, farmers now have a backlog of animals, and are not buying as much of the feed additives as they did just six months ago. Cattle are back to eating grass and pigs are on low-growth diets, because farmers can't deliver as many animals to processing plants and don't have the barn space to store them at full size.
Livestock counts for about half of the combined Elanco-Bayer company, with pet medicines accounting for the other half. And the pet side has taken its lumps, too. Pet owners stayed away from clinics in March and April, and visits dropped as much as 40%, Elanco reported. In May and June, business came back to normal levels.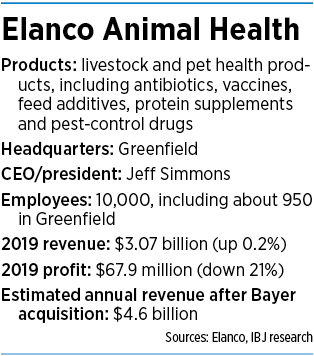 "It actually increased in July beyond that, because people were making up for wellness visits, vaccinations [their pets] didn't have," Simmons said.
Elanco's stock plunged 46% in the early days of the pandemic, from the low $30 range to the high teens, as country after country rolled out stay-at-home orders, closing restaurants, school cafeterias and other big buyers of meat.
Last week, the company reported that second-quarter sales fell 25%, to $586 million, due to lower demand and a reduction in channel inventories. The company posted a loss of $53.2 million, compared with a profit of $35.9 million a year ago.
'Surprisingly resilient'
But some analysts are cautiously optimistic about Elanco's prospects.
Steve Scala, an analyst at Cowen in Boston, told clients in a July 30 note that the pandemic caused up to an $85 million drop in Elanco sales, mostly in food animal products. But he noted that veterinarian visits have improved, and demand remains strong for Elanco's key parasiticides, which include the brands Credelio and Interceptor Plus. He has a "buy" rating on the stock.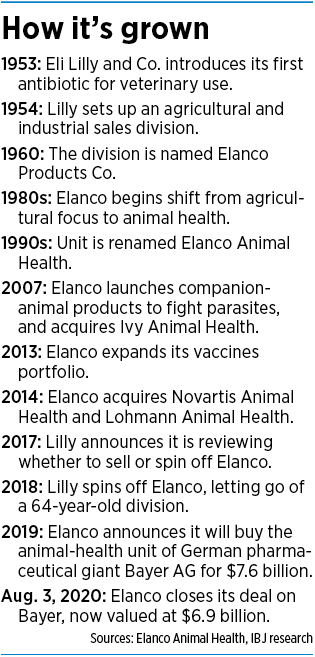 John Kreger, an analyst at William Blair in Chicago, told clients on July 30 he views the companion-animal market as "surprisingly resilient" and still very much intact.
"But the challenges facing livestock producers further cement our view that the market is more of a low-single-digit grower over the long term," wrote Kreger, who has a "hold" recommendation on Elanco stock. He said he was concerned that the combined company faces challenges growing at the market rate, "particularly in the midst of integration distractions."
Simmons is focusing on the potential upside. He pointed out that Elanco outperformed the U.S. flea, tick and heartworm market in the second quarter, and increased market share several percentage points in the process.
He highlighted that the 14 products Elanco has launched or acquired since 2015 grew an average of 14% during the quarter. He said Elanco plans to launch at least five more products by the end of next year.
And although the company's stock got hammered in the spring, it has rebounded somewhat. It is now down about 15% year to date, while the Standard & Poor's 500 index is up about 2% for the same period.
"We stand here today, in a durable industry, strong fundamentals through COVID, underlying core business growing on both sides, Bayer and Elanco," Simmons said to IBJ. "And we're set up now as an industry leader, fit for purpose and as an independent company."
Blitz of deals
One thing Elanco has on its side, to be sure, is a history of doing deals—both as part of Lilly, and now on its own since 2018. Elanco has grown rapidly through at least 10 acquisitions, including the $5.4 billion takeover of Novartis AG's animal-health unit in 2014. Early last year, Elanco paid $234 million to acquire Arantana Therapeutics, a Kansas-based startup that was developing medical treatments for dogs and cats.
But its purchase of Bayer's animal health business—originally valued at $7.6 billion and subsequently trimmed to $6.9 billion—is its most audacious yet. Bayer had been under pressure from investors to divest assets and raise cash since buying St. Louis-based Monsanto Co. for $63 billion in 2018.
Elanco spent months selling itself as the best partner, with complementary markets and customer bases. Bayer and its parent are regarded as direct-to-consumer players, with their famous consumer brands from namesake aspirin and Alka-Seltzer heartburn relief to Miralax laxatives and Bactine disinfectant. Its pet brands include Alenza soft chews and Baytril topical emulsions.
Elanco, on the other hand, is more of a business-to-business player, selling to veterinarians and livestock farmers through large distributors.
Now, Elanco is betting that, by building scale and market share with the Bayer deal, it can become a formidable competitor. The deal doubles Elanco's pet business and strengthens its presence in the cattle business. The combined companies command about 13% of the animal-health market, according to The Wall Street Journal and Germany's Baader Bank.
But a deal of this size also carries big risks. Elanco is trying to merge the cultures of American and German companies, each with separate systems for everything from product testing to inventory tracking. A seamless integration of operations around the world will take months of hard effort, experts say.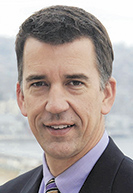 "For me, a deal really comes down to integration—identifying those crucial projects and products that are going to help make this thing successful," said Craig Caldwell, management professor and associate dean of the Lacy School of Business at Butler University. "It won't just happen because they stuck two things together."
Simmons said he realizes the hard work is just starting. He said he has spent much of early August in Zoom meetings with employees all over the world, explaining his strategy and vision.
But during his interview with IBJ, he declined to get into specifics of overlapping operations, products or territories, including cuts.
For now, he is just talking in broad strokes about the job ahead, including overlap of corporate administrative functions, research and development, and other areas.
"We'll trim overlaps and things that maybe we won't invest in," he said. "And then of course, manufacturing and our footprint. … So, it's across the board."
The footprint includes the headquarters in Greenfield, but Simmons deflected several questions about whether he plans to keep Elanco's headquarters here.
"Everyone wants to know on day one what all the detailed plans are. … But today is day one," he said. "And what we have to do right now is focus heavy on integration, focus heavy on value creation, and keep the momentum in our businesses. My senior leadership team will be looking at our long-term footprint in that process."•
Please enable JavaScript to view this content.