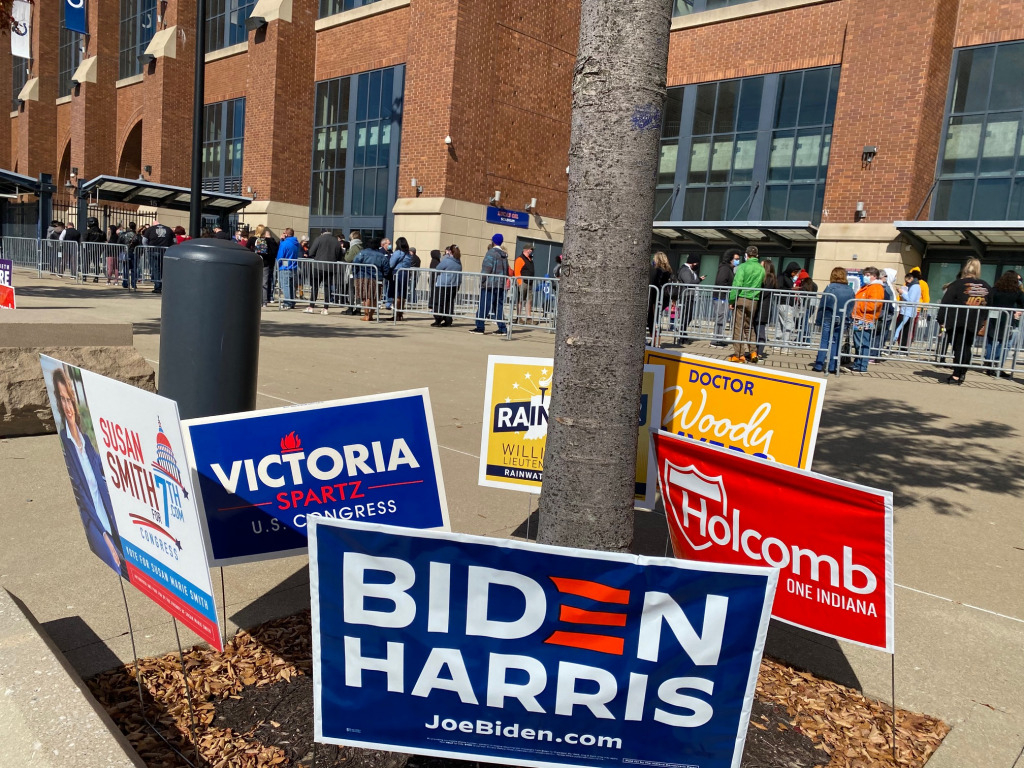 Election Day is shaping up to be an unusual one, thanks to the pandemic and some hotly contested and high-profile races. More than 1.7 million people have already voted statewide, but a million more will vote Tuesday if turnout is equal to 2016's election.   
Here's what you might need to know about Election Day and how results will come in Tuesday night (and possibly for the next several days).
I haven't returned my mail-in ballot yet. Is it too late?
It's certainly too late to mail it in, but you can return it until noon at a polling place.
I haven't voted yet. Where can I go to vote?
In Marion County, 187 vote centers are available. To find the one most convenient one for you, visit https://vote.indy.gov/. You can also check out IndyVoteTimes.org to see the estimated wait time at each polling location. Remember, if you are a Marion County resident, you can vote at any of those vote centers. You no longer have an assigned precinct voting location. In Hamilton County, 124 polling sites are open. To find the locations of those places, visit the Hamilton County election page.
What time are the polls open?
6 a.m. to 6 p.m.
What happens if I'm in line at 6 p.m. but have not voted yet?
As long as you are in line by 6 p.m., you will be able to cast a ballot.
How and when will results be tallied?
Ballots cast during early voting, either in-person or by mail, will start being counted on Tuesday morning. In Marion County, election workers are expected to start counting around 10 a.m. Hamilton County will start tabulating early absentee ballots at 8 a.m. After 5 p.m., Hamilton County will shift to prepare to start counting in-person ballots from Election Day. Officials will resume counting early absentee ballots at 8:30 a.m. Wednesday, if necessary. In-person ballots from Election Day can be counted starting after 6 p.m.
When will votes stop being counted?
Marion County has not set a specific cut off time for election night, but historically, counting has stopped about 10 p.m., according to Marion County Deputy Clerk Russell Hollis. Hamilton County plans to keep counting until all of the in-person ballots from Election Day have been tallied.
Will all results be in on Tuesday night?
It's unlikely. Election officials across the country have warned that it might take several days to tally all the votes. Hamilton County officials say they hope to count half of the early absentee ballots and all of the in-person ballots from Election Day by the end of Tuesday. If all the votes are not counted Tuesday night, counting will resume on Wednesday and results will continue to be shared.
Why does it take so long?
The high level of early voting—both in-person and by mail—means more ballots are in sealed envelopes that have to be opened before the ballot can be read by a machine. Opening all those envelopes takes time, plus processing the ballot through the machine.
But I voted on a machine when I went to a polling place for early voting? Didn't that count my vote?
That machine did not record your vote. It simply filled out the selections you wanted on the ballot and then printed out the results of the choices you made. The printed sheet of paper is what contains your vote, and that paper will be run through a machine on Election Day to record your vote.
How will IBJ report results?
IBJ will be providing timely results and news at ibj.com, through email alerts and via Twitter at @IBJNews and @lerdody.
The initial set of results that will be shared from Marion and Hamilton county offices will include early absentee ballots that have been counted so far, but it's unlikely that will include all of the early absentee ballots. As the night goes on, the results will also include votes cast on Election Day. But with some of the early absentee ballots still uncounted, it might be difficult to know how many votes are still outstanding in some of the non-statewide races, because we won't know which precincts those remaining uncounted ballots represent.
IBJ will periodically share results and explain what we know about any ballots still remaining in order to be clear about how the results could still shift.
IBJ will rely on reputable sources, such as The Associated Press and the New York Times, to call state and federal races. We will credit the source when certain races are called.
What races are IBJ following?
IBJ will be reporting on the governor's race, the attorney general's race, the 5th Congressional District and a handful of legislative races in the Indianapolis area. We will also be sharing updates on the presidential race, other Indiana seats in Congress and local Hamilton County contests.
IBJ reporters Kurt Christian and Samm Quinn contributed to this report.
Please enable JavaScript to view this content.