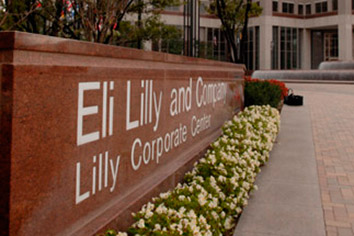 Eli Lilly and Co. is asking its employees to work from home if possible to "reduce the risk" of transmitting COVID-19, the illness being spread by the coronavirus.
Indianapolis-based Lilly, the 12th largest employer in Indiana with 10,600 workers in the state, said it didn't have a specific timeline for how long the precaution would last. The pharmaceutical giant has about 34,000 employees worldwide.
"In order to reduce the risk of virus transmission, we're taking measures to maximize 'social distancing' by asking employees at Lilly's U.S. facilities to work from home if possible, and by restricting travel within the United States," Lilly spokesperson Scott MacGregor said Sunday in an email to IBJ. "We're taking these actions out of an abundance of caution."
MacGregor said the request would primarily affect office workers. Some Lilly employees won't have the option.
"We have a unique responsibility to ensure continuity in our manufacturing facilities and R&D labs," MacGregor said. "By minimizing staff in our offices, we are reducing risk of inadvertent transmission to workers who don't have the option of continuing to do their important work from home (particularly those who work with specialized equipment or in specialized facilities)."
Earlier Sunday, Indiana health officials identified a second presumptive positive case of COVID-19 in the state, just two days after announcing the first case.
The Indiana State Department of Health said the patient is from Hendricks County and is in isolation in an undisclosed location with mild symptoms.
The patient traveled to Boston in late February to attend the BioGen conference and developed mild flu-like symptoms on March 2, officials said.
More than a dozen COVID-19 cases nationwide have been tied to the conference, including a Marion County resident who was identified Friday as Indiana's first COVID-19 case.
There are more than 100,000 confirmed cases of COVID-19 worldwide, with 80% concentrated in China.
More than 500 cases and 21 deaths have been reported in the United States.
"As the novel coronavirus situation evolves, we've been focused on two main guiding principles: protecting the health and safety of our employees, and protecting our ability to make and supply safe medicines for patients who rely on them," MacGregor said.
Please enable JavaScript to view this content.