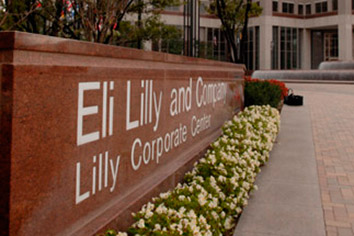 Indianapolis-based Eli Lilly and Co. announced Thursday that it has inked a research and collaboration agreement with Edmonton, Alberta-based Entos Pharmaceuticals that gives Lilly exclusive rights to the Canadian company's delivery system for nucleic acid-based therapies.
Entos will receive an initial $50 million payment through the deal, which includes an equity investment in Entos by Lilly. For each program under the agreement, Entos could also receive up to $400 million in potential milestone payments, as well as royalties, for the successful development and commercialization of products.
Lilly said the deal will support the development of therapies for multiple neurologic conditions.
The exclusive rights to Entos' nucleic acid delivery technology Fusogenix will allow Lilly to research, develop and commercialize products that would target the central and peripheral nervous system.
"Nucleic acid-based therapies hold great promise in addressing the biologic cause of many serious diseases that have significant unmet medical need," said Andrew Adams, vice president of Lilly Genetic Medicine, in written remarks. "Overcoming barriers to the safe and effective delivery of such therapies to specific target cells is essential to realizing their potential. We look forward to working with Entos as part of our efforts to overcome this challenge and develop potential new therapies that may improve patient outcomes."
Please enable JavaScript to view this content.