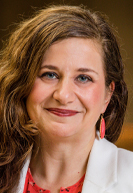 EmployIndy announced Tuesday that Marie Mackintosh has been promoted to president and CEO, succeeding Angela Carr Klitzsch, who has led the organization for more than six years.
Mackintosh has served as chief operating officer, and more recently, chief strategy officer. She joined the organization in June 2016.
"An Indianapolis native, Marie is keenly aware of the challenges residents face accessing good jobs in a post-pandemic economy with disproportionate opportunity," said Indianapolis Mayor Joe Hogsett in written comments. "She brings deep and valued relationships with key community stakeholders, officials, employers and funders who will pursue thoughtful and equitable workforce solutions for our community."
In April, Mackintosh appeared on Inside INdiana Business with Gerry Dick to discuss EmployIndy's Good Wages Initiative. The program certifies and highlights employers throughout Marion County that provide full-time wages of at least $18 per hour and access to health insurance benefits.
The effort aims to reverse a trend of people quitting their jobs because they don't make enough money or don't get the benefits they need.
"I am incredibly proud of innovative solutions that EmployIndy and its partners have created for employers and workers alike during my first six years at EmployIndy," said Mackintosh, "but our most important work continues to be ensuring a diverse and skilled workforce has equitable access to economic mobility through good jobs."
The organization says Mackintosh has led implementation of multiple programs to improve the local workforce ecosystem and talent development strategies.
She begins her new role immediately.
Please enable JavaScript to view this content.