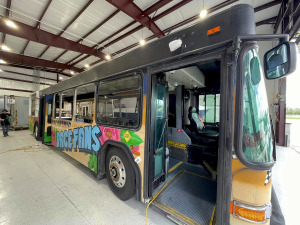 In a new initiative supported by Eskenazi Health and Cummins Inc., a former IndyGo bus could start a second life by the end of the year—distributing fresh food, providing nutrition education and troubleshooting problems Indianapolis residents have applying for food stamps.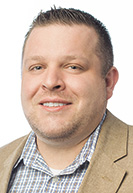 The idea of creating a mobile market to bring fresh produce to food-insecure areas of the city has circulated for more than a decade, according to Seth Grant, Eskenazi's director of food nutrition and food system strategy.
The shuttering of Indianapolis grocery store chains—including the 2015 closure of Double 8 stores and the 2017 closure of Marsh stores—has left a food-accessibility gap that especially harms Indianapolis neighborhoods with low access to transportation and high levels of poverty, experts say.
The mobile market would bring fresh food to areas that need it most as part of an effort to combat poor health outcomes, especially among Black residents.
With $250,000 from the charitable arm of Columbus-based Cummins, $420,000 from city COVID funds, a bus donated by IndyGo, and several community partnerships, the mobile concept should soon become a reality.
The retired bus, which was last used to shuttle Indianapolis 500 fans to the racetrack, will get a new Cummins engine and a paint job from Florida-based Premier Food Trucks.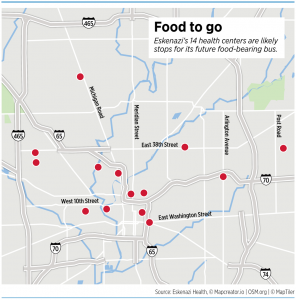 The mobile market will be an expansion of Eskenazi Health's Fresh for You Market, which opened at the hospital's downtown campus in 2017. In addition to for-sale food, the grocery-pantry hybrid provides vouchers to food-insecure patients and also offers on-site nutrition education. The same would be offered at the mobile market.
Voucher users shop alongside paying customers and choose their own items, allowing them to shop with dignity, Grant said.
The market has always been subsidized, but Eskenazi officials said they hope to increase traditional sales—to Eskenazi employees and to patients or visitors with the means to pay—enough to eventually break even.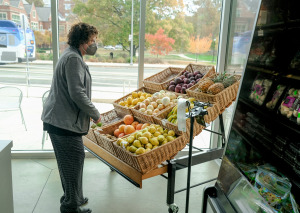 Identifying food insecurity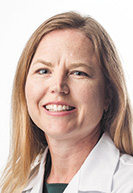 Eskenazi patients are screened for food insecurity through a short questionnaire. Dr. Deanna Reinoso, a pediatrician and head of the social determinants of health program at Eskenazi, said the system expects to screen more than 62,000 patients this year and already has identified 11,000 as food-insecure.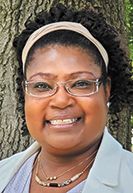 According to Milele Kennedy, director of the city's Division of Community Nutrition and Food Policy, the far-east side, Crown Hill, Butler-Tarkington and the near-north side all have difficulty with food access.
On the bus, vouchers from Eskenazi and food stamps will both be redeemable for fresh produce, as well as for the Marion County Public Health Department's food box program.
A rotation of local minority-owned restaurants will also prepare and sell food on the bus, but for now at least, vouchers won't cover those meals.
Grant said Eskenazi is working to finalize a schedule of stops for the mobile market. But they'll likely include Eskenazi's 14 federally qualified health centers.
"We're going to be collaborating with our dietitians and our physicians that are out in those federally qualified health centers to find the days that make the most sense for the patients that need it the most," Grant said. Partners such as Cummins are also helping to determine other parts of the city that would benefit from the bus.
Three full-time employees will work on the bus: a cook, a cashier and a health coach.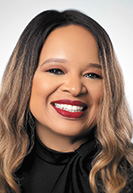 Kimberly McElroy-Jones, director of community partnerships for community health at Eskenazi, said the availability of nutrition education distinguishes the program from typical food pantry programs.
Sometimes an outreach coordinator from the Supplemental Nutrition Assistance Program, or SNAP, will also be on the bus to address difficulties residents have applying for benefits.
"When we first met with [the Family and Social Services Administration] about that project, they shared with us that up to 70% of the denials that come through Indiana SNAP are people who would have otherwise qualified had they just done that application correctly or in a timely manner," Grant said.
In 2021, one in 11 Hoosiers used SNAP, according to the Washington, D.C.-based Center on Budget and Policy Priorities. How much Indiana residents receive is income-based, but the average is $162 per household member each month.
Gleaners Food Bank, Kroger and Safeway will also help with funding and procurement for the mobile market.
A key partner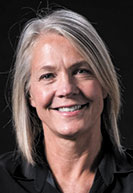 Cummins' involvement in the project is part of its Cummins Advocating for Racial Equality, or CARE, initiative, which is focused on dismantling institutional racism and creating systemic equity for the Black community in the United States, according to Cummins Vice President of Community Relations Mary Chandler.
The program was launched in October 2020 in reaction to the murder of George Floyd by Minneapolis police, and the program has invested $28 million around the country since its inception, Chandler said. Funds are focused on areas with a connection to the company.
Besides the Indianapolis mobile market, Cummins supports mobile markets in South Carolina, Tennessee, New York, Minnesota and North Carolina.
While food-related initiatives might seem odd for the engine manufacturer, Chandler said the idea began because the company wanted CARE to address health disparities.
"We started with some of the major drivers of Black inequality, and health outcomes was one of the problems that we wanted to solve," Chandler said. "Poor health is a major barrier to economic self-sufficiency, and poor nutrition, of course, is a major cause of poor health."
While researching approaches to health disparities, Chandler said, Cummins found that a mobile market is a good model because it isn't stuck in one location and is cheaper than a brick-and-mortar store. She said the Indianapolis market is unique due to its connection with health professionals at Eskenazi.
"When we approached Eskenazi Health, they already had the idea. And not only did they have the idea, but they were research-based and focusing … on the very problem that we were looking to solve, which was the link between economic self-sufficiency and wellness outcomes in our lower-income neighborhoods, specifically with regard to the Black residents of Indianapolis," Chandler said.
While Eskenazi will take care of the health programming and decisions about what food will be carried on the bus, Cummins employees will be encouraged to volunteer— stocking, pricing and helping with the market's user interface.
A neighborhood Cummins is focused on is Martindale-Brightwood, a historically Black neighborhood with a 40% poverty rate, the highest in Marion County, according to U.S. Census data.
"If we could put a dent in it and have success, it will be really important for this neighborhood and really important for the city of Indianapolis," Chandler said. "So we're really proud to be partnering with Eskenazi on this and looking forward to tracking the metrics and seeing the results."
Addressing disparities
The mobile market program is just one effort in Eskenazi's work to address the social determinants of health in Indianapolis revealed by recent research at the Indiana University Richard M. Fairbanks School of Public Health.
A 2014-2018 study mapped lifespans along the White River. It found that residents in Fishers lived nearly 17 years longer than those in the urban core of Indianapolis, around Martindale-Brightwood.
The study proposed some solutions to close the gap: improve daily living conditions; tackle the inequitable distribution of power, money and resources; and measure and understand the problem.
Eskenazi is trying to address the disparities through screening patients for social determinants of health and hosting community meetings. The Health Equity Zone pilot demonstration is being rolled out in neighborhoods near three Eskenazi Health Centers: 5515 W. 38th St., 3840 N. Sherman Drive and 9443 E. 38th St.
"Even if we improve a lot of access to resources and improved care and wraparound support for children, families and communities, it will take a very long time for us to start seeing different health outcomes for some of these adult measures," Eskenazi pediatrician Reinoso said. "But I do look forward to seeing it before I retire."•
Please enable JavaScript to view this content.