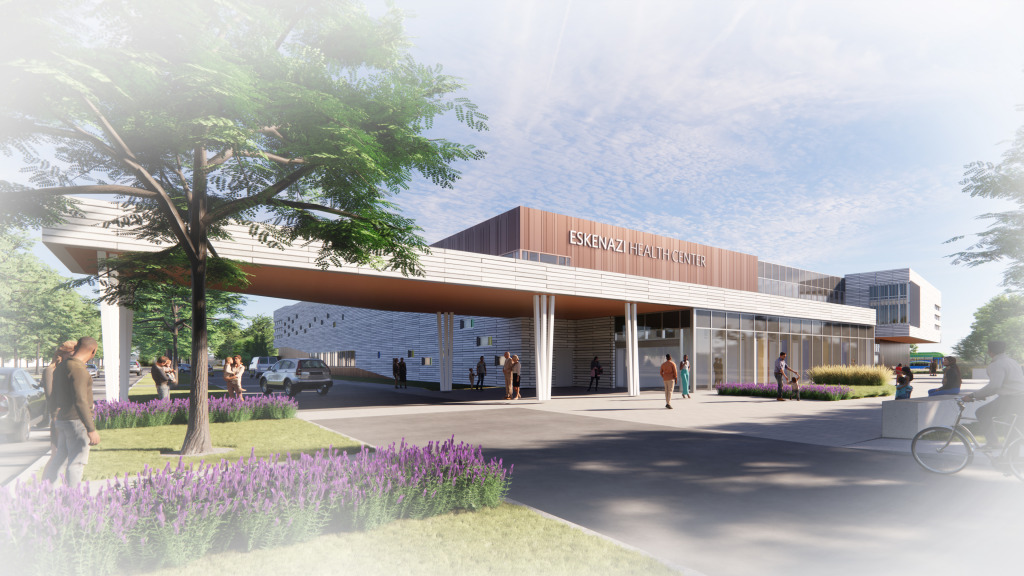 Eskenazi Health plans to build a new primary care clinic on the east side that is part of a capital improvements project worth more than $50 million for its network of  neighborhood clinics.
The health system announced Thursday morning it will build a 95,000-square-foot clinic at 6002 E. 38th St., near the intersection of North Arlington Avenue. The site previously housed a 59-year-old retail center anchored by a Value City Department Store that closed in 2008. The retail center has been demolished.
The clinic, which is scheduled to open in 2024, will offer a wide range of primary care and public health services.
In an announcement, Eskenazi Health said the new health center "will welcome new patients and those currently served by Eskenazi Health Center Forest Manor and Eskenazi Health Center North Arlington."
Those two health centers are about two miles west and south, respectively, of the new clinic. Eskenazi Health said those two clinics will be "folded into the new complex."
The Indianapolis-based health system said it is collaborating with members of the immediate neighborhoods and community organizations throughout the planning and design of the new clinic.
"Guided by community input, the facility will serve as a hub for community gathering, providing accessible care options and social amenities under one roof," the announcement said.
Eskenazi Health said it plans to renovate and upgrade other primary care facilities in its network, but did not announce details. Some of these enhancements are already in progress, the organization said.
Eskenazi Health said the expansion is being driven by increased demand for services. It said the new clinic will allow for 30,000 visits a year.
"At Eskenazi Health, we know our greatest opportunity to improve the health and vitality of our patients and, by extension, the health and vitality of our community, lies in providing access to care that encompasses the whole person and the many factors contributing to good health," Dr. Lisa Harris, CEO of Eskenazi Health, said in written remarks. "Primary care physicians, nurses and staff are at the very heart of this commitment."
Dr. Virginia Caine, director and chief medical office of the Marion County Public Health Department, said the new clinic will include county health services.
"Identifying the challenges and assessing the risks and protective factors confronting our community and this neighborhood have been central to the development of the new health center," she said in written remarks.
Mayor Joe Hogsett said the investment will have a great impact on neighborhoods throughout Indianapolis, "including our most vulnerable neighbors." The new clinic is in a low-income area about four miles east of the Indiana State Fairgrounds.
Eskenazi Health said the clinic will "transform a former paved space into green space." It will be accessible by the IndyGo Purple Line along the East 38th Street corridor.
The clinic is the second primary care center built under the Eskenazi Health name since the opening of Eskenazi Health Center West 38th Street in 2013.
In 2021, Eskenazi Health provided care through 284,842 outpatient primary care visits. These outpatient clinics facilities offer a sliding-fee discount program based on household size and income and are open to all regardless of ability to pay.
Eskenazi Health, founded in 1855 as City Hospital, is Indiana's oldest and largest public health care system. It comprises 11 sites, including its main hospital west of downtown.
Please enable JavaScript to view this content.