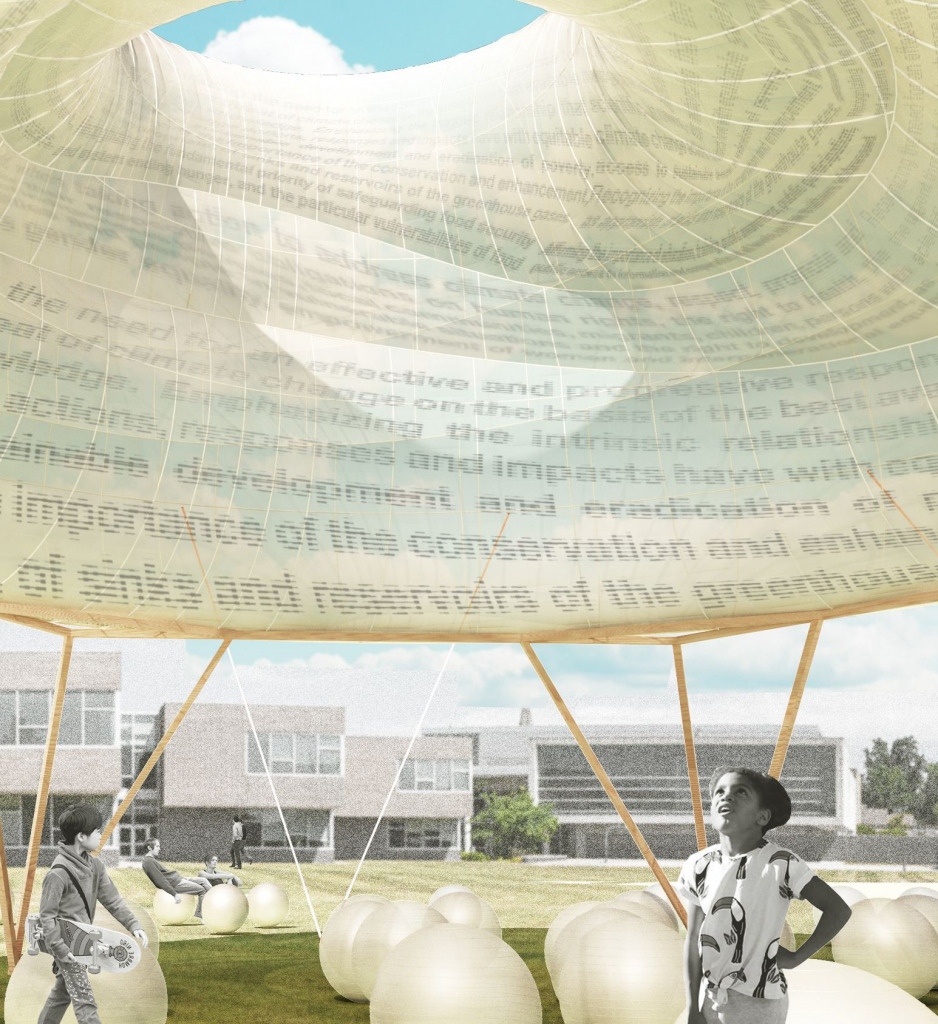 Imagine watching clouds change color to signal air quality or walking amid towers providing habitats for birds and amphibians.
That's what people will see if they attend Exhibit Columbus, an exploration of art, architecture and design in the Indiana city renowned for building design.
The "New Middles" exhibit will run from Aug. 21 to Nov. 28 in downtown Columbus and feature the work of 13 artists in an outdoor space. The exhibit will include art in many different forms–photography, sculptures and more.
Exhibit Columbus Executive Director Anne Surak said this year's exhibit started to come together in February 2020, when Exhibit Columbus held a symposium to hear ideas from international artists, architects and designers about what the next exhibit should include.
Within the first month of the symposium, "New Middles" became a clear favorite. The exhibit "explores the future of the center of the United States and the regions connected by the Mississippi Watershed – an area that stretches beyond political borders," according to a press release.
When the idea was in its beginning stages, though, the pandemic hit. Surak said work was able to move forward fairly easily, but organizers wanted to make sure they had selected the correct subject, given the times.
"We work with people all over the country, so we were used to working remotely in that way," Surak said. "We wanted to really think about, as the year unfolded, about whether it'd be about the pandemic or social unrest. 'New Middles' seemed to be a really timely concept."
Surak said she is excited by what artists are creating.
One of the participating firms, Ecosistema Urbano–which has locations in Miami and Madrid–will be setting up a feature called "Cloudroom" at Central Middle School. It will be like an outdoor classroom where students, teachers and other members of the community will be able to sit and watch the clouds in the installation change colors depending on the current air quality.
Another exhibit being featured is "To Middle Species, with Love" by University at Buffalo's Joyce Hwang. Hwang was selected to participate as one of the University Design Research Fellows, professors who are leaders in architecture and design.
Her installation with nine towers. The upper area of the towers consists of shelter areas for bats and perches for birds. The lower area is constructed of stones, "providing habitat conditions for terrestrial and amphibious species."
"For over a decade, I have been interested in exploring ways to incorporate urban wildlife habitat into our built environment," Hwang said. "Many of my previous and current projects explicitly include animals as stakeholders in architectural design."
Learning about Columbus was interesting for Hwang. She said she was excited to learn about the flora and fauna of Indiana and was determined to continue the work of organizations like Friends of Pollinator Parks and the Indiana Department of Natural Resources, which focus on biodiversity enhancement.
"I became very interested in creating a project that would tap into these ongoing efforts to bring visibility to urban animals as part of our communities," Hwang said.
Hwang said likes how the overall theme of "New Middles" has allowed for different interpretations from participating artists, architects and designers.
"I like that the theme is both focused yet provokes a wide range of interpretations," Hwang said. "You could think about 'middles' in so many ways–from geographic conditions to socio-economic conditions, or it could be a spatial concept. I've really enjoyed seeing all of the design presentations and learning about every team's reflections and interpretations on the theme."
Please enable JavaScript to view this content.