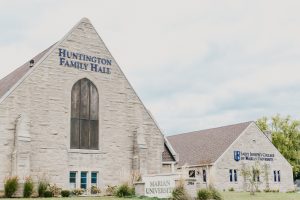 Marian University will rename one of its buildings Huntington Family Hall after receiving a donation of more than $1 million from the family that owns Indianapolis-based AAA Roofing Co. Inc., the school announced Friday.
The university will rename the building that houses the Saint Joseph's College of Marian University-Indianapolis, its two-year college.
The Huntington family chose to make the gift to the university in memory of family matriarch Mary Ann Busemeyer Huntington, who graduated from the then-Marian College in 1957 with a degree in education and went on to teach for more than 20 years.
The university did not disclose the exact amount of the gift, saying some of the money will be deferred and will fluctuate based on the market. The contribution was scheduled to be announced during a gala Friday night.
Several generations of the Huntington family have graduated from Marian.
"Marian University is eternally grateful to Mary Ann and the Huntington family, and proud to honor her legacy through the naming of Huntington Family Hall," President Daniel Elsener said in a written statement. "Our alumni are leading Marian's success; it's because of, in large part, our alumni that we are achieving greatness. The Huntingtons are exemplary alumni and I can't imagine a better time to honor them than at our gala on Homecoming weekend."
Please enable JavaScript to view this content.