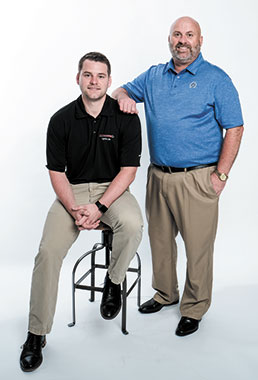 Revenue growth
FY 2016 to 2018: 630%
2018 revenue: $42.4 million
Meteoric rise: Hoosier Logistics President Nick Likens describes the trajectory of his company's growth like this: "Our first three months, we did about $200,000 in revenue. From there, it was $5 million, $15 million—and last year it was over $40 million." He credits the growth to "rock star" employees with diverse backgrounds in the transportation and logistics field, and he projects that this year the company will generate about $75 million in revenue.
What it does: Hoosier Logistics is a third-party logistics provider with its own equipment, but its primary business is as a middleman working with national supermarket chains to arrange transportation for them. It arranges transportation with partner carriers and makes a commission from that.
Moving groceries: When it's moving groceries, Hoosier Logistics typically hauls from the Midwest to the West Coast and then brings fresh produce back—lettuce, strawberries, cherries. Although refrigerated transportation is where the company started, it now also ships auto parts, lumber—around 500 shipments a week of anything you can think of that needs to be shipped, Likens said.
Getting started: Likens earned a finance degree from Ball State University and decided to follow his father, Rob Likens, into the transportation business. "The joke is, once you're in transportation, you're stuck," he said. "You can't see yourself doing anything else." They started the company together with one employee in 2015 and now have around 40. Likens said they were able to finance the operation thanks to customers who paid their bills quickly, which enabled them to manage their growth without incurring a lot of debt or needing investors.
New space: Hoosier Logistics' goal is to reach $150 million in revenue in three years and add 20 to 30 employees, Likens said. The company also plans to move to a new space where it can house all its businesses: Hoosier Logistics; Midwest Transportation Solutions, an asset-based trucking company; and Midwest Transportation Leasing, which provides leasing and financing opportunities for drivers or owner-operators to own their own equipment.•
Check out more of IBJ's ranking of Indy's fastest-growing companies.
Please enable JavaScript to view this content.