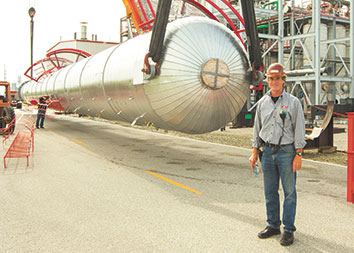 Revenue growth
FY 2016 to 2018: 54%
2018 revenue: $40.5 million
Founded in 1898: Kennedy Tank & Manufacturing Co. is a 120-year-old company "that's had some pretty good growth recently," President Patrick Kennedy said. He attributes the growth to a strong economy that's caused companies to invest in capital expenditures they've been putting off for a number of years.
Growing in both directions: Kennedy said the company has seen steady growth in its manufacturing side—making industrial-manufacturing tanks for companies like Procter & Gamble that use tanks and vessels in their processes—and rapid growth in its field-service side, which includes both maintenance and on-site, Erector-Set-like construction of tanks that are too big to ship.
Transitioning: Kennedy's great-grandfather started the business as a boiler-repair company that would go out to industrial concerns that used boilers for generating electricity and heating their facilities. The business grew into manufacturing, and for years the staple product was underground petroleum storage tanks for gas stations. In the 2000s, the company moved away from that, Kennedy said. Now, everything it does is above ground.
Getting workers: Kennedy said his company gets welders from Hobart Welding School in Troy, Ohio, and from the International Brotherhood of Boilermakers' apprenticeship program. Kennedy's regional field service group—which does boilermaker, pipefitter and millwright work—is in demand regionally for maintaining boilers and boiler-related equipment at industrial plants, universities and steel mills around the Midwest. In the past several months, Kennedy employees have finished jobs in Nebraska, Ohio, Georgia and Michigan.
The next generation: Kennedy said the fifth generation of Kennedys—his three sons, as well as a nephew and "other top talent"—also deserves credit for fueling the company's growth. "They're young and they're aggressive," he said. "We are a great reactive company. It's not as easy to be proactive, but we have made great inroads on being a more proactive sales organization, which has brought new customers on board. That generation, I'm confident, is going to take the business to a higher level."•
Check out more of IBJ's ranking of Indy's fastest-growing companies.
Please enable JavaScript to view this content.