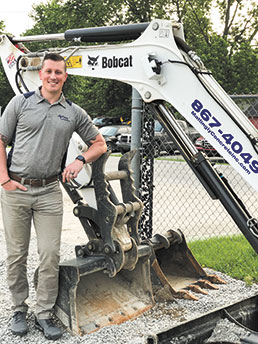 Revenue growth
FY 2016 to 2018: 48%
2018 revenue: $5.0 million
Back on the list: Mattingly Concrete returns to the Fast 25 after a one-year absence, and President Will Mattingly credits that to "building on good energy" and making quality hires. "I compliment the culture our team has created within our company, from management on the job to internal in our office," he said. "Everybody gets it, and it's a proud feeling. And I think our customers see that. One job continues to turn into two for us."
Know your role: The company's work remains primarily residential, whether it's a backyard setting or a new driveway. Clients typically are homeowners looking to upgrade, or revitalize areas that are starting to see some age, Mattingly said. He prefers not to share examples of the company's work. "We try to keep our clients' business private, but it is not hard to see our trucks around town," he said.
Continuing the legacy: Will Mattingly took over as president of the family business on Jan. 1, 2017. Before that, he was head of operations. "We're carrying the torch and continuing what was a good thing for many years," he said. "We're growing and expanding on that with the same philosophies and customer care and taking care of our employees
and making people
feel special."
Expanding role: Lately, Mattingly has expanded into land development. New homebuilders are slowly creeping up on its client list, as are general contractors, developers, school systems, parks and recreation, and utility companies, he said. Mattingly Concrete typically does 600 jobs a year in the $10,000 to $50,000 range.
Coming up: Mattingly said his goals in the next five years are to stay among the Fast 25. "We're not planning on slowing down any time," he said. "We're always looking for more talent, but we're excited to keep up with the growth. We're very proud."•
Check out more of IBJ's ranking of Indy's fastest-growing companies.
Please enable JavaScript to view this content.