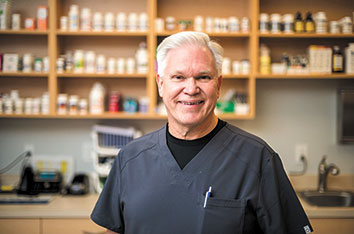 Revenue growth
FY 2016 to 2018: 40%
2018 revenue: $8.6 million
Making pet care affordable: Veterinarian and CEO Dr. Mike Graves said Pet Wellness Clinics began to take off after introducing Pet Prime, an all-inclusive pet wellness program that costs $39.95 a month for dogs and $29.95 a month for cats. "Medical care for pets is getting more expensive all the time," he said. "We try to get things into a monthly budget for people where they can afford to do the right care for their pet."
Expansion: Graves started the business as Bridgeview Animal Hospital in Fishers in 2005. It now has seven locations in central Indiana, and an eighth will open late this year or early next. Graves' son, CFO Ben Graves, said the company won't open a clinic until it can afford to. "We grow 100 percent debt-free," Ben said. "We wait until we save up and then open another clinic so we don't have any loans."
Starting up: Mike Graves has been a veterinarian for 37 years. He began his career in Muncie, working for a vet who ran multiple animal hospitals in Muncie. In four years there, he learned how to do multi-site management. From 1987 to 1994, he opened eight hospitals of his own before selling to a national chain. (He was selected for IBJ's Forty Under 40 in 1995.) After operating a single clinic in Muncie for a few years, he opened one in Fishers.
Pet Prime: The idea for the Pet Prime plan came from Ben Graves. The clinics had noted that pet owners weren't buying a full year's worth of heartworm and flea and tick medicines, or they were putting off vet visits because of the cost. "If they would have come in when the dog started to get sick," Ben said, "it would have been OK. But then they'd wait a week and have to have a really expensive surgery to fix a problem that could have been fixed less expensively and quicker."
Fixed costs: Ultimately, the idea is to help people budget for their pets. "We're not a cheap clinic, but we're very value-oriented," Ben said.•
Check out more of IBJ's ranking of Indy's fastest-growing companies.
Please enable JavaScript to view this content.