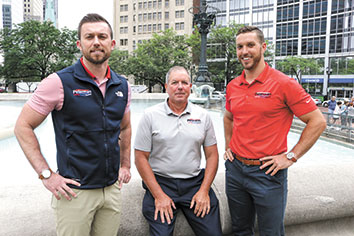 Revenue growth
FY 2016 to 2018: 101%
2018 revenue: $15.7 million
On the radio: You've probably heard the jingle: "Call 859-4270/Peterman's the way to go." Peterman Heating, Cooling & Plumbing's business is 90% residential service and installation, and President Chad Peterman said he's "a big believer" in using radio advertising to reach customers. The resulting new business is what's driving his company's growth, which he expects to increase another 30% this year.
New method: Over the last three years, Peterman has been encouraging customers to text message for service. Peterman has a call center rep whose job is almost entirely talking to people online or via text.
The other 10%: The Peterman business is primarily new furnaces and air conditioning units and their service and maintenance, as well as residential plumbing, drains and excavation, and sewer and water-line replacement. Chad Peterman said the remaining business is commercial—multifamily apartments and rehab space where people are buying and fixing up properties. His father, Pete, has a lot of those contacts and takes care of that piece of the business.
Emphasis: Peterman said his company's goal is "not growing to get bigger but growing to get better." He's focused on finding the best people and creating the best place for them to work. "Caring for our employees so then they will take care of our customers," he said. "They could get their furnace tuned up or replaced by a bunch of people around town. What we found is, what they're buying is our people and the level of service they provide."
New home: Peterman is breaking ground on a new facility near the Main Street Interstate 65 exit in Greenwood that will triple the company's space. Although 60% to 65% of the service technicians are dispatched from home, Peterman said the number of customer service reps, as well as the internal infrastructure, continues to grow. Of the company's 115 employees, 35 are in the office. "When you find really great people," he said, "you can't stop the growth."•
Check out more of IBJ's ranking of Indy's fastest-growing companies.
Please enable JavaScript to view this content.