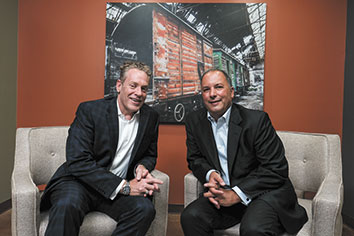 Revenue growth
FY 2016 to 2018: 114%
2018 revenue: $21.6 million
Abetted by debt: As Americans continue to pile up debt ($13.3 trillion as of the second quarter of 2018), Phoenix Financial Services continues to add to its coffers—and earn a spot in the Fast 25 for the second consecutive year. Phoenix collects unpaid hospital, emergency room, student loan and commercial debts.
At work: Phoenix's clients include companies like Pendrick Capital Partners, a big medical-debt buyer ("We just continue to perform for them," CEO David Hoeft said), Cascade Capital Corp. and Link Revenue Resources—generally not household names, but all large players in the debt-collection world. "Our growth has continued to be from new clients," he said, "but it's also from our current clients who continue to grow and place more with us because we perform."
Industry expectations: People think you just go collect the debt and it's easy, Hoeft said, but "once you get into the industry, you find out how compliant it is. You have to have all the analytics and systems in place, and then once that's in place, you need to perform. And the clients care about how you treat the consumer, and they care that you also produce results for them."
Strategic growth: Hoeft said his company is primed and ready—with all the compliance and IT security parameters in place—to branch into government and state contracts, including tax collections. Phoenix also is looking to expand far outside of Indiana so it has time-zone coverage. "If something goes down due to weather, we can kick calls to our second site," he said.
Ready to expand: Phoenix is aiming to double its business in the next two years, Hoeft said. "The business is there," he said. "We want to make sure we have the facilities, the space, the IT support and the knowledge base to help us do it."•
Check out more of IBJ's ranking of Indy's fastest-growing companies.
Please enable JavaScript to view this content.