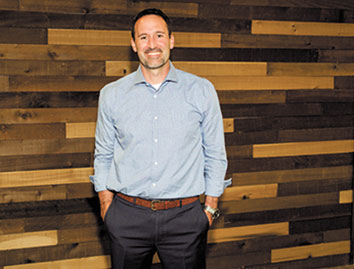 Revenue growth
FY 2016 to 2018: 74%
2018 revenue: $44.1 million
Second time around: Rehab Medical—which provides physical rehabilitation equipment to doctors, patients and other clients—is among the Fast 25 for the second year in a row. President Kevin Gearheart attributes the company's success to organic growth and three acquisitions that enabled expansion into another state and added product lines.
Into Oklahoma: Rehab Medical bought Family Medical Supply of Oklahoma City, which gives it a presence in 16 states. The previous owner wanted to retire, Gearheart said. "We've tried to take his model and add a portion of what we do really well to his model. He's got a good company and we're trying to add our resources and our system to expand what they were doing."
Merger and acquisition: Rehab also bought OMS Rehab, a Kansas City-based maker of orthotic devices such as back and knee braces. "We've known that company and those owners for some time, so it was a natural fit for us to add and expand another product line to what we're doing." And this February, Rehab merged with Indianapolis-based Cork Medical, a wound-care company that's in seven states. "A lot of the patients we have, have wounds," Gearheart said. "We're providing services to those patients who have wounds and [are] trying to heal the wounds. We're also providing them with mobility equipment that enables them to not make the wounds worse."
How to choose: Gearheart said acquisition decisions are based on three questions: What states are we not in? How do we find a well-run company that fits our culture? Does this expansion make sense?
Measured growth: Gearheart said Rehab Medical plans to continue to grow, but at the right pace. "We want to take advantage of the foundation that we have, the people that we have, and the structure that we have, and continue to grow using that core base. We're taking care of people; we're improving lives for people who need mobility equipment or wound-care products. For us, the growth isn't just growth for growth's sake but because we know we're able to take care of more people that way."•
Check out more of IBJ's ranking of Indy's fastest-growing companies.
Please enable JavaScript to view this content.