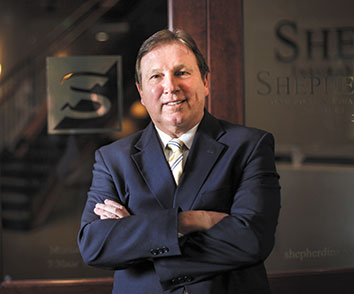 Revenue growth
FY 2016 to 2018: 50%
2018 revenue: $45.3 million
Buying: Chairman and CEO Dave Shepherd said his company, one of the top 50 insurance agencies in the United States, is "in an acquisition mode," and that's why the agency's revenue has doubled, to $51 million, over the past three years. "We've acquired probably 15 brokerages and firms over the past four to five years," he said. "We do a lot of organic growth—new clients—but I would say we're two-thirds acquisitions vs. organic."
Niches: Shepherd is a full-service insurance business that sells to companies and individuals throughout the United States. It has 23 offices in five states, with the main office in Carmel. Shepherd said his company is one of the largest insurers of truck dealers in the United States, with clients from Alaska to New York City. Its other niches include insuring commercial real estate and developers.
From zero to … : Dave Shepherd started with no clients in 1981. Today, his company insures 35,000 personal clients, 2,000 commercial clients, and 500 employee-benefits companies. "The quality of people we've been able to attract to our agency has been second to none," he said, "and that's been the biggest difference in the last 15 years in the growth of our agency."
Expectations: Shepherd said that, through a combination of his "expert sales team," quality service reps and the company's merger-and-acquisition plan, "we hopefully will be at the $100 million revenue mark within the next five or six years. We have some tremendous growth goals."
Transitions: Shepherd Insurance has 18 partners, some of whom are moving into leadership positions in the company. "I don't want to say that I'm at the December of my career," Shepherd said, "but I'm in October or November. I can see myself moving into the chairmanship of the company and turning the leadership over." Jeff Kweder, the president of the company, and Shepherd's son Quinn "are running the bulk of the agency. They're our top two guys in the future of what's going on at Shepherd."•
Check out more of IBJ's ranking of Indy's fastest-growing companies.
Please enable JavaScript to view this content.