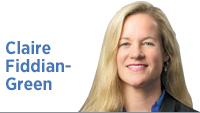 The results of the 2018 Program for International Assessment, released in December 2019, show that U.S. teenagers struggle with math compared with their peers in other countries. The international exam, administered every three years, was given in 2018 to about 600,000 15-year-old students in 79 countries and economies. The latest results show that the U.S. ranks 37th in math literacy, well behind countries like China. This finding is consistent with prior PISA results and is a troubling indicator for America's continued global competitiveness.
Business authors Jim Collins and Jerry Porras coined the term BHAG (Big Hairy Audacious Goal) to describe how visionary entities develop bold, long-term missions. A strong BHAG is clear and compelling, and galvanizes people to find solutions to address complex challenges.
How about this for a BHAG for the new decade? By 2030, Indiana will serve as a model for other U.S. states by significantly improving math outcomes for all Hoosier students, in every classroom.
There is consistent evidence across multiple indicators—including PISA, the National Assessment of Educational Progress and ILEARN scores—demonstrating that the majority of Hoosier students aren't proficient in math. We read seemingly every day about the impact of artificial intelligence on jobs in every sector, and the growing demand from employers for data analytics capabilities. It's increasingly clear that a strong grasp of mathematical concepts is—quite simply—a prerequisite for success in our global economy. We must do something very different than what we're currently doing if we want to see students make big gains in their math proficiency levels.
Maybe part of the problem is that schools are teaching outdated math content. In a provocative Freakonomics podcast broadcast on Oct. 2, Steven D. Levitt, a professor of economics at the University Chicago, makes the case that most high school math classes in America are preparing students for the Sputnik era—not for today's economy. Unlike countries whose students consistently outperform their U.S. peers on PISA, our country emphasizes courses like geometry and algebra II over data analysis courses like probability and statistics. Levitt notes we are living in an age where the ability to understand and analyze data is vitally important. American schools should spend more time on data fluency so that students learn to make sense of the information they're deluged with in the news and on social media, and are also well-prepared for future careers. Levitt has launched a K-12 data literacy initiative and is on a mission to fundamentally change America's math curriculum.
Levitt is smart to focus on one of the building blocks of math proficiency: curriculum. Other building blocks include how we train aspiring math teachers and how we support math teachers once they're in the classroom. Each building block should be examined with a fresh set of eyes. We must ask ourselves: What isn't working when it comes to math education? And why? What changes are necessary?
The evidence is accumulating: Hoosier students are not acquiring the math skills they need for success in a global economy. Other countries have identified effective solutions and, as a result, their students are better equipped than American students to succeed in the information era.
As we embark upon a new decade, we should establish a BHAG that will galvanize us to make bold strides in how we prepare Indiana students for their futures. Let's serve as a model for other U.S. states by significantly improving math outcomes and data fluency for every student, in every Indiana classroom.•
__________
Fiddian-Green is president and CEO of the Richard M. Fairbanks Foundation and a former adviser to then-Gov. Mike Pence on education issues. Send comments to ibjedit@ibj.com.

Click here for more Forefront columns.
Please enable JavaScript to view this content.