If you're still looking for a ticket to tonight's NCAA men's basketball Final Four or Monday's championship game, be prepared for a price with several zeros.
As of Friday afternoon, dozens of tickets were still available on second-hand ticket sites, such as StubHub and TickPick, with asking prices ranging from $700 to more than $6,000.
Why such high prices? It's a simple matter of supply and demand.
Due to the pandemic, the NCAA is limiting attendance at the games to 22% of capacity of Lucas Oil Stadium, or 6,900 fans on one court and 8,500 on another.
"It's definitely a strange year, and the ticket prices are much higher than traditional Final Four ticket prices that we've seen in the past," said Renny Harrison, owner of Carmel-based Fanfare Tickets.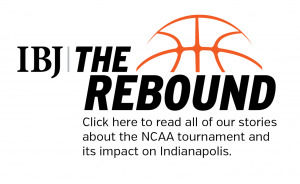 Fortune magazine reported that ticket prices are 145% higher than any other Final Four in history. By comparison, the lowest ticket price for the 2019 Final Four was $281.
But whether those asking prices are the real market prices people are willing to pay is another matter. Some ticket websites and apps showed lower prices, perhaps reflecting milder spectator interest than expected.
Gametime, a mobile ticket marketplace app, said it had tickets available for tonight's Final Four game between Baylor and Houston, with prices ranging from $426 to $3,534 per ticket.
Tickets for the other Final Four game, between Gonzaga and UCLA, were running between $609 and about $1,000.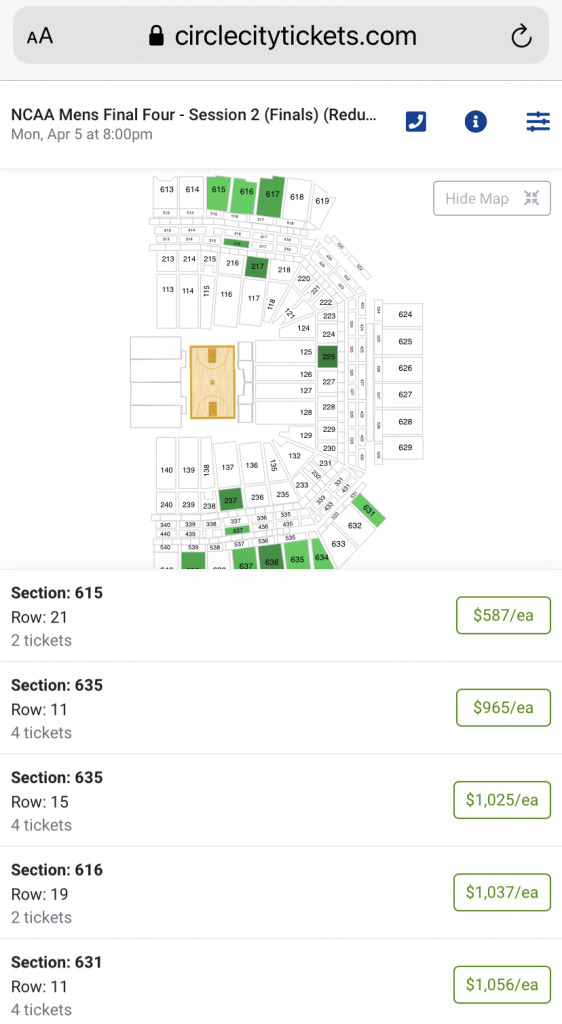 So it seems like a volatile market—and perhaps the biggest variable is the four teams that are playing this weekend. All four schools are more than 800 miles away from Indianapolis, tamping down demand somewhat, Kiros Sistevaris, owner of Circle Center Tickets in Indianapolis.
"Fans from those schools are thinking, 'OK, what's it going to cost me to fly in, what's it going to cost me for a hotel room, what's it going to cost me to get a car?' And the bottom line escalates."
If a Big Ten school, such as Michigan or Ohio State, had advanced, thousands of fans from around the region would be looking for tickets and driving to Indianapolis, he said.
But people from Indianapolis are likely not going be stampeding to see a game between, say Gonzaga and UCLA, two West Coast teams with limited fan bases here.
"I struggle to think if I even watched a Gonzaga game on TV this year," Sistevaris said.
Still, the prices on the secondary market for this year's championship series are no steal, despite the far-flung teams. The cheapest price for a ticket, in the $600 range, is more than double that of recent years: $218 in Minneapolis (2109), $330 in San Antonio (2108) and $214 in Phoenix (2017), according to TalkBasket.net.
"We're still getting interest," Sistevaris said. "But if Michigan had made it in, the demand would be obviously better. With Michigan out of it, that lowered the demand a little and the price has dropped accordingly."
Michigan lost Tuesday in the Elite Eight round, 51-49, to UCLA.
"This year, while the teams sure are exciting," Harrison said, "we don't have any of those big-time basketball draws locally to support interest."
Please enable JavaScript to view this content.