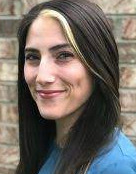 Samantha DeLong, one of two Democrats and the North Central District representative to the Fishers City Council, plans to step down from her elected position at the end of the month.
DeLong announced in a Tuesday social media post that she was ending her 16-month stint on the Fishers City Council because her family was moving out of state and she would no longer be a Fishers resident as of May 1. DeLong did not immediately respond to a request for comment.
"It has been a pleasure working on the City Council these past 16 months, and I am sad to be leaving a position that I worked hard for and on," DeLong wrote. "It was an honor to represent the residents of the North Central District."
DeLong and at-large council member Jocelyn Vare are the lone Democrats on the nine-member Fishers City Council, which has long been dominated by Republican members. DeLong campaigned in 2019 on fiscal responsibility, controlled growth and community engagement.
Hamilton County Democratic Party Chair Dayna Colbert said DeLong gave the party advanced notice to begin the caucus procedure and ensure there is a replacement on the way. Colbert declined to identify potential candidates for the position, but said there are already a few that are interested—including two candidates recruited by DeLong herself.
Interested Democrats living in Fishers' North Central District must email a CEB-5 form to hcdpindiana@gmail.com by 3 p.m. on Thursday, April 22. Colbert said the precinct chairs will meet that weekend to cast their votes to fill the void.
"We appreciate the work that she's done. She did campaign very hard, and was able to reach out and talk to her constituents," Colbert said of DeLong. "We thank her for service on the council and think she served admirably."
Colbert said the party is working to set up a swearing-in ceremony so that the process may happen sooner rather than later.
"We are hopeful that will be very soon after the vote," she said. "We do want to have as seamless a transition as possible."
The Fishers City Council's next full meeting is scheduled for April 19, meaning it will proceed with a full roster.
Please enable JavaScript to view this content.