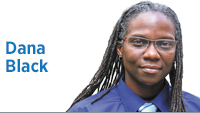 Gov. Eric Holcomb has released his 2020 plan for Indiana, and it reads much like last year's.
The first item on the agenda: Transform how we tell Indiana's story. Holcomb would like to emphasize the idea of "quality of place" and he believes we need to do a better job of telling and selling our Indiana story to grow the economy. He said on Dec. 4 at the BGD Legislative conference: "Critically important that there are—it sounds basic, but—things to do. It's a cool place to live, work, play and ultimately stay."
As someone who calls herself "Indiana's Own," I find it hard to argue with that. I have this conversation with folk who don't live in Indiana, current residents who are ready to leave and young people who are wondering what their future looks like. I talk about all the wonderful places to visit around our state. Go north to Porter County to visit the dunes and chill on Lake Michigan. Head south to Evansville, Jeffersonville or Vevey and relax by the river. Visit Brown and Monroe counties to rent a cabin and go rustic for the weekend. Sports fan? Catch a live event in Indy or any college town. For arts and culture, it's never a disappointment with Indy museums.
But quality of place isn't just about having things to do; it is how you live. Holcomb talks about improving infrastructure, including water quality and broadband access. The plan includes improvements in access to health care—more specifically, access to quality mental health care. Per usual, there is an emphasis on education and making Indiana teacher salaries competitive. Most of what is mentioned in his plan are things many Hoosiers could get behind.
But here is the problem: You can't just talk about Indiana being a quality place. You must make it a quality place.
And just like in 2019, it doesn't appear the GOP supermajority in the Legislature is interested in making Indiana a quality place for all its residents. At the same BGD conference, GOP leaders made it crystal clear that, in this short session, difficult issues will not be discussed, teachers will not see a raise, and Rep. Brian Bosma is retiring and isn't looking to do any heavy lifting. As Rep. Todd Huston looks to be the new speaker, assuming he wins his 2020 race, the future looks bleak for change. Huston seems to think Hamilton County is the best representation of the needs of the other 91 counties. Not!
How can you sell Indiana as a quality place when our teachers are begging for competitive wages to stay in the industry and access to tools needed in the classroom?
How can you sell Indiana as a quality place when Attorney General Curtis Hill is continuing his lawsuit to end Medicaid access for so many who need it just to survive?
How can you sell Indiana as a quality place when we rank at or near the bottom in the nation for air quality, water quality, wages and ranking quality of life?
Holcomb failed to influence GOP lawmakers last year. What makes him think he will get there this year? He promised last year he would take care of our teachers; well, that didn't happen. And I'm still seething over that incomplete and insulting hate crimes legislation.
I have little faith that Holcomb can lead his party in the direction that makes Indiana the quality place we know it can be. You can't just talk about it; you must be about it.•
__________
Black is deputy chairwoman for engagement for the Indiana Democratic Party and a former candidate for the Indiana House. Send comments to ibjedit@ibj.com.
Please enable JavaScript to view this content.