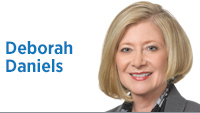 My deadline for this column was just after July 4, and I decided to write about why I continue to be proud and thankful to be an American.
I planned to write about how we seem to be returning to normal as a nation with pride in its heritage—the traditional community gatherings, culminating in evening fireworks displays, returned this year after a long hiatus, and we are celebrating together as a country again.
The task became more difficult when initial reports began to trickle out on the devastation wrought by a lone gunman at, of all things, an Independence Day parade. How can this most sacrosanct, family-friendly and positive of events, celebrating what brings us together rather than what tears us apart, become instead the scene of a mass shooting?
But there are other positive signs. Even though we are seeing our revered institutions, including the U.S. Supreme Court, suffer lost credibility and trust, we as a nation still respect the rule of law. Those who are concerned about the lives of women in a post-Dobbs world are taking to the ballot box, not the streets. There is disturbing personal criticism of some justices, but I also recall the "Impeach Earl Warren" billboards from my childhood.
Though we as a country have been torn by public protests born of a sense of racial injustice and the extreme reaction of some whites to those protests, we have lived through far worse as a country. We went through a terrible period in the 1960s. The police in the southern United States were far more violent in their reactions to civil rights protests than in 2020, even when the protests were fully peaceful; and the anti-Vietnam protests (and police response—think Chicago '68) were more violent, in many cases, than the more recent protests about racial justice.
Not to mention that this country lived through, and survived, a civil war in the 1860s that threatened our very existence as a nation. What is happening today is not comparable to the polarization of the country in that era—even though some of the evil we see now is a remnant of those days and the attitudes of certain whites in those times that have been passed down through generations to some of today's youth and adults.
In a great irony, given that we are a nation of immigrants, we have always seen resistance by certain groups of Americans (themselves the descendants of immigrants) to the immigration of new groups of people. Famously, the Irish, arriving before the Italians, ferociously resisted the immigration of Italians to "their" country. According to historical reports, the Irish, who had fled their homeland to escape poverty, feared that their economic security in the United States would be threatened by the arrival of the impoverished Italians. Sound familiar?
We are living through what seems to be another cycle of fierce resistance to "the other": extreme polarization among the electorate, characterized on both sides by abject refusal to consider the point of view of the other side, and a wave of violence beyond anything I can recall in my lifetime.
But in spite of all this, I still believe we live in the best nation in the world, with the greatest opportunities for individual achievement. That is why Judge Sarah Evans Barker last week swore in another 80 new citizens at the Benjamin Harrison Presidential Site. People still see us as the land of hope and opportunity.
We just need to do a better job of living up to their expectations.•
__________
Daniels, an attorney with Krieg DeVault LLP, is a former U.S. attorney, assistant U.S. attorney general, and president of the Sagamore Institute.

Click here for more Forefront columns.
Please enable JavaScript to view this content.