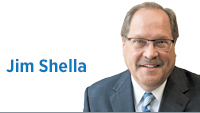 Brian Vargus died recently. His passing was little noticed in the local media and that's not right. Vargus left as big a mark on Indiana politics as anyone not affiliated with one of the major parties.
Vargus was a sociology professor at IUPUI who spent most of his time dealing in politics.
I worked alongside Vargus for years at WISH-TV Channel 8. He served as a political analyst, and we contracted with him for political polling.
For the purpose of this discussion, let's separate the two.
As a political analyst, he was opinionated and clearly defined issues for the viewers. He was always eager to show up in the studio or to invite a camera into his office. In his obituary, his wife, Liz Carroll, is quoted as saying he was "occasionally in error, never in doubt." That says it.
He studied at Cal-Berkeley, and that led a lot of people to believe he was a liberal. Maybe. But from my experience, he was all about taking on the status quo, no matter the point of view.
That gets us to polling. Vargus started the Indiana University Public Opinion Lab in 1984 and conducted political polling until 2003. It was important work, not just because the lab taught and employed students who learned about survey research but also because it kept politicians honest.
My feeling that independent polling is necessary (meaning polling not conducted by the parties or campaigns) goes back to the 1984 race for governor between Republican Bob Orr and Democrat Wayne Townsend. The Orr campaign released selected polling numbers early in the race that showed him with a comfortable lead (campaigns never share all their survey results.) The Townsend campaign responded with selected numbers that showed Townsend close.
Many doubted those numbers, and the Townsend campaign was never able to show significant improvement to the degree that it would give him the fundraising boost he needed to win. He lost a surprisingly close race that might have turned out differently if donors and voters had had independent survey results to set the record straight.
And so, I encouraged my employer to pay for polling from Vargus year after year. Vargus, WISH and I became targets of criticism from politicians who didn't like the results. Student polls, they were called. Politicians questioned the sample sizes, the methodology and Brian's integrity. But they couldn't shop their numbers freely anymore.
In 1996, Vargus did polling in the governor's campaign that showed Democrat Frank O'Bannon in the lead late in his race against Republican Steve Goldsmith. Goldsmith's pollster told a different story, showing him in the lead.
On Election Day, exit polls conducted by the major TV networks matched up perfectly with the Vargus polls. I was doing live reports from the Goldsmith campaign gathering and, based on that combination of data, reported on the 6 p.m. news that O'Bannon would win the race.
The campaign spokesman for Goldsmith came after me, hair on fire, challenging my conclusion. Of course, you know now that O'Bannon won. Goldsmith later got a very public refund from his pollster.
Having said that, I should point out that Brian was quirky. A little guy who usually wore cowboy boots, he would giggle like a small child when things were going well and turn on you in a flash when they weren't.
He did polls for another media outlet at one point and ended up in a lawsuit. I eventually got new bosses who fired him. It was a mistake.
You couldn't replace Brian Vargus.•
__________
Shella hosted WFYI's "Indiana Week in Review" for 25 years and covered Indiana politics for WISH-TV for more than three decades.


Click here for more Forefront columns.
Please enable JavaScript to view this content.