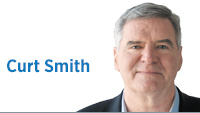 On the eve of the second anniversary of living with COVID, it might be too early to discern deep changes brought on by the pandemic. But several trends bear watching.
Certainly, we can say technology adoption, itself an accelerant, has accelerated. Zoom calls, telemedicine and more are clearly here to stay. But are there important changes in our core practices and beliefs due to the worldwide health crisis?
One comforting finding, eloquently detailed in The Washington Post by my friend and former colleague Mike Gerson, is that the pandemic has not changed our religious faith.
"You might think that the global COVID-19 crisis—with 5 million dead and counting—would provoke intensified reflection on the enigma of misery. In a new study by the Pew Research Center, the authors probe how many Americans have had their faith shaken or blamed God during the pandemic and other recent calamities. The results are notable for being unexceptional. Recent trauma has created very little theological drama in the minds of Americans," Gerson recently wrote.
Large majorities of Americans continue to profess a deep faith in God even as fewer Americans participate in formal religious communities (church, temple or synagogue), Pew reports.
The Indiana Family Institute did a deep dive into key family statistics and found few COVID-based trends. Adoptions are delayed for obvious reasons. There appear to be fewer marriages (delay, too), but a growing satisfaction with marriages in general. Divorce data is mixed, but W. Bradford Wilcox of the University of Virginia reports survey results showing "my marriage is in trouble" declined from 40% to 30%.
Birth figures do show declines. A study by Arnstein Aassve computed a 3.8% rate of decline in U.S. birth rates from 2019 to 2020. He found the decrease accelerated toward the end of 2020. No baby boom this time. (Hat tip to ace researcher Charlie Willis for the family facts.)
One major COVID impact that likely will persist long term involves education. Again, data is early, subject to revisions and hotly debated. But this development explains the saliency of education as a major issue in politics.
Public school enrollment is declining in Indiana and nationwide. Home schooling, whether by parents-only or in co-ops, has skyrocketed. For decades, 3% to 4% of school-age children received home-based instruction. The U.S. Census Bureau reported that grew to 5.4% in the spring of 2020, then 11.1% in October 2020, before peaking at 19.5% in mid-May 2021.
While the numbers have declined from that unprecedented level, the reasons for the change remain. Again, these are hotly debated, but many parents are dissatisfied with taxpayer-funded schools. Some blame haughty administrators who forced school closures and mask mandates. Others say the veil was pulled back by virtual instruction, allowing parents to actually see what was being taught. Still others just note the kids were forced home with their quarantined parents and guardians, so home schooling was more convenient.
Whatever the cause or causes, this is a seismic and systemic shift. Some estimates say up to one-fourth of Hoosier kids are home-schooled or in a non-public school. Indiana's voucher-law changes rightly empower more parents with more choices. And parents are choosing to leave government-run schools in droves.
"I am certain that the Indiana education system is beginning to fracture," wrote Anthony Kinnett, a former classroom teacher and education policy adviser to Wisconsin Gov. Scott Walker, in an August article on this trend.
Those fractures will force more significant change in K-12 education, our state's largest single budget item, at just under $10 billion annually. We might call it COVID reforms.•
__________
Smith is chairman of the Indiana Family Institute and author of "Deicide: Why Eliminating The Deity is Destroying America."

Click here for more Forefront columns.
Please enable JavaScript to view this content.