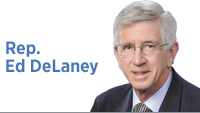 I never thought Hoosiers were inclined to drop out. They are more prone to chip in. But you couldn't tell that from the Legislature's response to COVID or to the new federal infrastructure bill.
The majority party seems to focus on ending public-health efforts, rather than ending COVID. By the same token, Republicans seem to be ignoring the opportunity to ride the wave of revenue and infrastructure investments being created in Washington.
These failings are the result of a lack of imagination and fear of the upcoming Republican primaries. They can do better on both fronts. We can reduce the risk from COVID and invest in our future.
Reducing the COVID risk
Indiana has not fared well in dealing with COVID. We are trailing the vast majority of states when it comes to inoculation rates. Many politicians act as if the real problem is not an epidemic but any effort to defeat it. We are sold phony remedies, bad information and anger mismanagement. Schoolchildren are more compliant with mask-wearing than most legislators. Who is the role model here?
The Legislature's recent abortive effort to manacle employer efforts to protect us could offer us a turning point. Legislative leaders focused on primary voter anger, not on solutions. Thus, they crafted a proposal that infuriated companies trying to manage complex workforces and protect public health. At the same time, they failed to satisfy those who pretend they deserve a religious exemption that organized religion does not want. The leadership went so far as to urge pregnant women to prioritize baseless fears over science to the detriment of both mother and child.
But when the same leaders heard the reactions and the medical facts, they blinked. Now is the time for them to open their eyes, not just blink. The suggestion that they just need a timeout to come up with more of the same is disturbing. How about a plan to increase inoculation rates and support public health? This can be done while leaving our employers and educational institutions free to manage their responsibilities. And this effort should not rely on undercutting the role of thoughtful work based on committees and knowledgeable witnesses. The error of operating in haste was exposed by the futile effort to rush legislation.
We don't need a full-time Legislature, let alone one operating without a schedule or a set of rules and procedures.
Investing in Indiana
For years, my Republican friends have underinvested in our people and our infrastructure for fear of raising taxes to support such efforts. Now, with revenue flowing in from Washington, D.C., and from Hoosier economic success, we still don't want to invest. There is no movement to lower student tuition and thus lower student debt. There is no desire to get serious about our terrible local roads. We pretend not to notice that federal passenger rail money could flood our state.
Critically, neither the governor nor the Legislature seems to have noticed the weakness of state government. Public-health spending is embarrassingly low. The unemployment system can't serve our people. The courts are struggling with evictions. We can't prepare enough teachers, especially for special education. We are about to be deluged with road funding without building up either INDOT or our building trades.
These are problems we can fix, if we choose to invest in Indiana. These are real problems we can solve. But not if all we do next year is try to assuage anger.
Let's chip in, not drop out.•
__________
DeLaney, an Indianapolis attorney, is a Democrat representing the 86th District in the Indiana House of Representatives.

Click here for more Forefront columns.
Please enable JavaScript to view this content.