Does Mike Pence have a path to the presidency?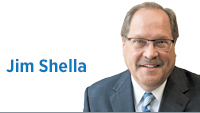 Mike Pence will never become president. That's my prediction.
The former vice president and former Indiana governor is hiring staff and raising money for a GOP run at the White House in 2024—and from here, it looks like a fool's errand. He will never overcome the events of Jan. 6.
That's because loyalty to the president is the number one job of any running mate, and Pence failed to carry out Donald Trump's instructions that day.
"Hold it!" you say. "DJT wanted Pence to break the law! He did the right thing!"
Explain that to GOP primary voters. The majority of them are Trump supporters, and they will never forgive Pence for being a decent man in the face of a riot. It's that simple.
And the moderate Republicans who long for a return to more normal politics in this country are unlikely to support Pence, either. That's because he has once again become subservient to Trump and tries to gloss over the events of Jan. 6 as "one day in January." He accused Democrats of trying to "demean the character and intentions of 74 million Americans" who voted for Trump. How? By focusing on the day when some of those 74 million sought to hang Pence.
He is in a box. And what we keep learning is that, when Pence is in a box, he doesn't respond well. Anybody remember RFRA?
The good news for Pence is that he can now live a comfortable life following decades of public service and poor financial decisions. In Tom LoBianco's book about Pence titled "Piety and Power," the author spelled out how Pence squandered a six-figure inheritance early in life and then lost $800,000 when the family business went bankrupt. According to the book, Pence didn't own a home when he was elected vice president, and the Inaugural Committee had to buy a formal gown for Mrs. Pence.
Now, Pence has a book deal that will pay millions. (Although, if he gives an unvarnished view of life in the Trump White House, the reason you get a deal like that, I will eat your hat.) He has a job with a think tank and stands to make a boatload in speaker's fees.
You can look at that and say that all made it worth being Trump's lap dog for four years. I suggest that you look instead at what might have been.
If Pence had stayed in the 2016 race for governor, he would have won. Sure, he was in a tight race when he took the offer from Trump, but, even without a Hoosier on the ticket, Trump would have carried Indiana by a big enough margin to drag him in for a second term. That would have put Pence in a better position to run for president in 2024, if that was his true desire. He would also have the opportunity to run for U.S. Senate in 2024, if you believe the rumors that Mike Braun would rather run for governor.
Either way, Pence would still have his dignity.
Now, I could give you some history and point out how Hoosier Republicans Dick Lugar and Dan Quayle both failed to become serious challengers in prior presidential races, even though both appeared to be better positioned than Pence is at the moment. But why beat a dead horse?
The fact of the matter is that everyone has now seen Mike Pence for what he is, and that's not a winning formula.•
__________
Shella hosted WFYI's "Indiana Week in Review" for 25 years and covered Indiana politics for WISH-TV for more than three decades.

Click here for more Forefront columns.
Please enable JavaScript to view this content.