What is contributing to the labor shortage?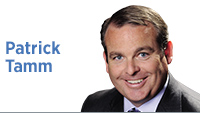 If someone were to tell you that the hiring crisis faced by all U.S. industries, particularly the hospitality industry, could be blamed on one culprit, that person would be lying. The recruitment challenges we're all facing are a complex puzzle made up of a myriad of pieces—including stimulus supports, remote schooling, the need for caregivers to stay home, reduced labor-force participation, and greater competition for talent.
The Indiana hospitality industry laid off nearly 215,000 Hoosiers in restaurants and more than 90% of those working in hotels in March 2020—many had to seek immediate employment for themselves, their families and their futures.
The Indiana hospitality industry immediately asked federal and state governments for extraordinary assistance for those hurt by shutdowns and significant restrictions. Today, continued unemployment benefits from the federal government are challenging as we look to economically recover; however, they are just one part of an unprecedented problem in our country. While there are surely those who benefited from the additional unemployment, many have also delayed coming back to the workforce in order to take full advantage of these unprecedented benefits.
The hospitality industry leads America with women and minority leaders, while restaurants specifically lead all industries with women as business owners. With children out of school for an extended period, women who are often primary caregivers also found themselves as primary educators as well. This also constrained the ability to return to jobs that require on-site labor.
Many that were once part of the hospitality industry found their skills were highly valued by other industries. Historically, one-third of Americans receive their first job in the hospitality industry, where many learn vital job skills. Eighty percent of restaurant owners start out as entry-level employees. The hospitality industry clearly provides the path and opportunity for the American dream—for some, that is within the industry; for others, it means taking their skills to other industries.
The pandemic has left our industry facing some cold, hard facts. In January, 8% of restaurant operators rated the recruitment and retention of workforce as their top challenge; by May, that figure had risen to 72%.
As for hotels, the unemployment rate in the accommodation sector remains 275% higher than in the rest of the economy. In May, 98% of Indiana hotels reported having multiple open positions that they cannot fill even while offering increased wages, full benefits, bonuses and additional sign-on incentives. Hotels were one of the first industries hurt by the pandemic and will be one of the last to recover.
These numbers are shocking for an industry that once employed about 13% of Hoosiers statewide, but all hope is not lost. Most important, through public and private leadership and everyday Hoosiers who have worked hard throughout this time to show the world we are open, "Hoosier Hospitality" is and will be delivered to all.•

Click here for more Forefront columns.
Please enable JavaScript to view this content.