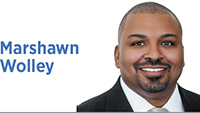 Americans have more confidence in small businesses than in any other institution in the country.
Gallup has produced a poll on confidence in U.S. institutions since 1993. The poll is a random sample of just over 1,000 adults age 18 or older, living in all 50 states and Washington, D.C.
While in 2021, small businesses, military and the police all received over 50% confidence approval in the poll, this year only the small businesses (68%) and the military (64%) received majority support.
The U.S. presidency and the U.S. Supreme Court both saw the deepest declines from 2021 to 2022, with drops of 15% and 11%, respectively. Congress was at a paltry 7%.
None of the 16 institutions measured in the poll gained more of Americans' confidence, although organized labor was unchanged from 2021 to 2022, at 28%.
While I would like to have more confidence in government and other institutions, that small business ranks so high says something about our society now.
There are just under 32 million small businesses, or businesses with fewer than 500 employees as defined by the U.S. Small Business Administration, in the U.S. economy.
About 19% of U.S. small businesses have employees. Around 48% of employees work at a small business. They have been responsible for creating 65% of jobs since 2000 and accounted for 44% of the U.S.' economic activity in 2019.
Over 80% of small businesses do not have employees—a statistic that was somewhat surprising. Roughly 96% of Black businesses do not have employees, but the Black community experienced an 8% increase in the number of employer businesses from 2018 to 2019.
While Gallup did not provide insight on why Americans have more confidence in small businesses than in other institutions, I think a lot of it has to do with the number of Americans who work for a small business and the idea that small businesses are more connected to the local community.
They're manifestations of optimism as they could be bigger or even big businesses one day. But they can also be the owner living out a dream at whatever stage and size we meet them.
Small businesses create community—which might be harder for other institutions to mimic in the same way. When traveling, I always try to find the unique restaurants that are not chains.
If I'm showing someone my city, I tell them about the small businesses that aren't anywhere else.
I visit my favorite small businesses regularly because I value the products and services they provide, but they also just seem more special. Sometimes the proprietors know my name. Sometimes they know my son's name.
Others have suggested that Americans have more confidence in small businesses because they create jobs.
I think Americans root for small businesses.
I think they want to see them succeed—even when it is a David and Goliath struggle for market share.
I think it's also fair to note that America is a little cranky right now. There are lots of legitimate reasons to be upset and even more opportunity to practice aggrievement.
We are experiencing a moment where we are seeing new lows in the intensity of patriotism. Gallup found that only 38% of Americans expressed they are "extremely proud" to be an American.
With American institutions experiencing record lows in public confidence, the fact that small businesses have weathered a storm of American pessimism is something to note—even as we face the prospect of a recession.•
__________
Wolley is president and CEO of Black Onyx Management, Inc.

Click here for more Forefront columns.
Please enable JavaScript to view this content.