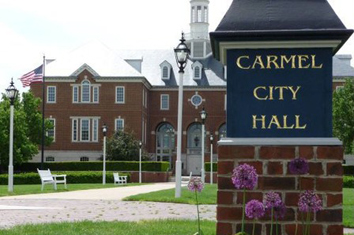 Carmel's former equity manager has filed a federal discrimination lawsuit nearly eight months after he was fired from the position.
Timothy Knight, who was the city's equity manager from May 2021 to March 2022, claims the city violated Title VII of the Civil Rights Act of 1964, which prohibits employment discrimination based on race, color, religion, sex and national origin.
The complaint filed Nov. 7 in the U.S. District Court for the Southern District of Indiana lists Carmel Mayor Jim Brainard, Human Resources Manager Lisa Hartz and Director of Administration James Crider as co-defendants.
Knight is represented by Indianapolis attorney Terrance Kinnard of the law firm Kinnard, Scott, Rowley, Powers. Kinnard did not immediately respond to a request for comment from IBJ.
"The City of Carmel does not comment on pending litigation," said Dan McFeely, a city spokesman.
Knight requested a jury trial, and is seeking back pay and related compensation, compensatory and consequential damages, emotional distress damages, punitive damages, litigation costs and expenses, and "all other appropriate relief."
Prior to filing suit, Knight presented his claims to the Equal Opportunity Employment Commission. He received a "right to sue" letter on Sept. 16.
Knight, who is Black, was initially hired in May 2021 as employee development coordinator before his title was changed to equity manager.
Knight's job duties included implementing diversity, equity and inclusion training for city employees, along with professional coaching and leadership development.
Before taking the job with the city, Knight worked as a police officer, supervisor and detective with the Indianapolis Metropolitan Police Department and has experience in employment and business development. The suit refers to Knight, who a doctorate in human services from Capella University, as Dr. Knight.
What the suit says
The complaint says former Human Resources Director Barbara Lamb informed Knight before he began working for the city that "a culture of anti-African American racial discrimination exists within the rank and file of the City of Carmel" and that there was a need for diversity, equity and inclusion training.
However, some Carmel employees "began resisting the idea of an African American (Knight) conducting city-wide diversity training," according to the suit.
Lamb agreed and insisted that Knight suspend all in-person diversity training and forbid him from conducting virtual training until after her retirement at the end of 2021, the suit says.
The lawsuit claims discrimination from additional city departments followed and Lamb suspended Knight's training for the Carmel Fire Department.
"The truth is the heads of various city departments, in concert with human resource professionals and staff, simply did not want an African American providing training on racial diversity," the lawsuit says. "This discriminatory action essentially prevented Dr. Knight from performing the principle work for which he was hired, and which Carmel so desperately needed."
In late October 2021, Lamb invited Knight to apply for the city's director of human resources position. However, the complaint says she soon came under pressure to "exclude Dr. Knight based on his race."
It adds that before Knight interviewed for the human resources position, Lamb told Knight that he had not completed any in-person diversity training. Knight responded that he did not complete the training because she ordered him to suspend the work.
On Nov. 16, 2021, Lamb told Knight she forwarded Hartz's name to Brainard to serve as her replacement as director of the human resources department.
"Ms. Lamb seemed to justify this decision further based on Dr. Knight's failure to perform the diversity training she ordered suspended," the lawsuit says.
The complaint says Lamb made the recommendation despite Hartz being less qualified for the position and that the city of Carmel "did not wish for an African American to hold such a high-level position within the city administration."
The lawsuit says on Jan. 4, 2022, that Lamb referred to Knight as "stupid," crazy," "Pollyanna," and asked "what planet" from which he came. Lamb had remained as director of human resources past the end of the year.
Lamb did not immediately respond to a request for comment from IBJ.
Hartz and Crider fired Knight on March 10, 2022. The lawsuit says Hartz was "angry and intolerant" when she explained to Knight that he was being fired for insubordination, and was "ambiguous" in describing when and how Knight was insubordinate and offered no documentation.
Carmel later objected to Knight's application for unemployment benefits. During a hearing on July 27, the lawsuit says Carmel's legal counsel, Hartz and other city employees attended and alleged Knight conducted "sexually explicit conversations" with them.
The complaint alleges the city maintains employment-related policies and procedures that "tacitly or explicitly authorize discrimination and retaliation against the protected class of African American employees of the City of Carmel."
"In light of being a municipal employer, the need for specialized training and supervision is so obvious, and the inadequacy of training and/or supervision is so likely to result in the violation of federal rights," the lawsuit says.
Carmel has not filled the vacant equity manager position.
Please enable JavaScript to view this content.