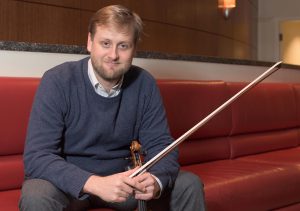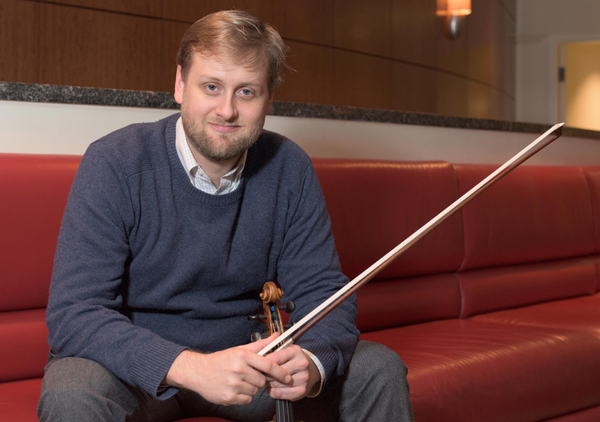 Violin virtuoso Zachary DePue—who served as concertmaster for the Indianapolis Symphony Orchestra for more than a decade before leaving three years ago—has taken the same position at the Carmel Symphony Orchestra, the CSO announced Wednesday.
DePue, 41, built an international following while at the ISO from 2007 to 2018, but was just as well known for his side projects. He has been working as a guest concertmaster and performer since leaving the ISO, with almost a year off due to the pandemic.
The CSO is a professional 85-member orchestra that is a resident company of the Palladium at the Center for the Performing in Carmel. Its next concert is scheduled for July 4 at CarmelFest.
DePue was a CSO guest artist in March at the Palladium, joining the orchestra for its performance of the Vivaldi "Four Seasons."
"Carmel Symphony Orchestra is absolutely thrilled to announce that Zach is joining us and bringing his energy, his warmth, his versatility and his overall musical passion to our orchestra and to our community," CSO Artistic Director Janna Hymes in written remarks.
As concertmaster for ISO, DePue served as principal violinist and was second in artistic command behind Music Director Krzysztof Urbanski. Concertmasters typically oversee rehearsals, handle solos, work with the conductor on arrangements and sound, and serve as an orchestra spokesperson in the community.
DePue also was a founding member and spent 15 years with Time for Three, a classical/bluegrass/pop crossover group that played hundreds of concerts, recorded four albums and made national TV appearances, including ABC-TVs Dancing with the Stars.
Time for Three was formed while DePue, fellow violinist Nick Kendall and double bassist Ranaan Meyer were students at Philadelphia Curtis School of Music. When DePue landed a full-time gig as section violinist with the Philadelphia Orchestra, the band worked around his schedule as its reputation grew.
In 2006/2007, DePue was granted leave from the Philadelphia Orchestra to be part of a 130-concert, nine-month Time for Three tour—which included a fortuitous New Year's gig with the ISO. After that performance, DePue was encouraged to apply for the open concertmaster position.
After winning the job, he moved to Indiana—with Time for Three quickly becoming the ISO's trio in residence.
DePue decided to leave Time for Three in 2015 to concentrate on his role as concertmaster.
DePue and his three older brothers also formed the DePue Brothers Band, a classical and bluegrass group. Their father is Wallace DePue, a composer and professor emeritus at Bowling Green State University.
"I am incredibly honored and thoroughly delighted to join Carmel Symphony Orchestra as Concertmaster," said DePue, who performs on a violin made in 1846 by Giuseppe Rocca of Turin, Italy. "The CSO has a decades-long reputation of musical excellence, and I cannot wait to contribute to this nearly 50-year tradition of quality. Moreover, we're going to have fun while making music, and we're going to share that fun with our audiences at the Palladium and other venues."
Please enable JavaScript to view this content.