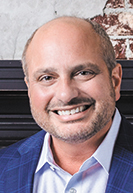 Attorney Carl Brizzi, who served two terms as Marion County prosecutor and frequently courted controversy during his career as a lawyer and politician, died Wednesday at age 53.
A family spokesman said Brizzi, who lived in Fishers and was an of-counsel attorney at Lewis and Wilkins LLP. suffered a stroke Wednesday afternoon and died later at the Heart Hospital in Carmel.
Brizzi was known as a political up-and-comer who had a high conviction rate, especially for narcotics and sex-crimes cases, when he served as Marion County prosecutor from 2003-2011. He was named one of IBJ's Forty Under 40 recipients in 2004 for his work in the office.
But negative headlines became common for Brizzi starting late in his stint as prosecutor.
Brizzi was born in Brooklyn, New York, and received his bachelor's degree in political science from Indiana University and law degree from Valparaiso University.
His entry into politics came through the Prosecutor's Office. In 1994, he volunteered for Republican Prosecutor Scott Newman's campaign. After Newman won, Brizzi started working in the office.
He then worked as a senior investigative counsel in Congress and opened a private practice before eventually seeking the Prosecutor's Office in 2002.
Brizzi told IBJ in 2020 that he was proud of the prevention and protection programs he oversaw in office to increase child support, mentor youth and educate school children about gun violence.
"I wanted to make a difference," Brizzi said. "Policy mattered to me."
In 2009, while Brizzi was Marion County prosecutor, he came under fire for investing in public companies connected to embattled businessman Tim Durham, who happened to be a friend and big donor. Durham was later convicted of fraud in connection with a Ponzi scheme.
In 2010, the Indianapolis Metropolitan Police Department opened an investigation into the circumstances surrounding an officer's injury at a 2008 fundraiser for Brizzi.
In 2012, he was sued by former Indiana Secretary of State Charlie White for legal malpractice. And in 2013, he escaped prosecution after a three-year federal investigation of an unusual real estate deal in Elkhart that unraveled.
In 2017, he had his law license suspended for 30 days for representing a client in a case in which he had a personal interest.
Brizzi acknowledged his mistakes in 2020 when he unsuccessfully ran for the Republican nomination in the highly contested 5th Congressional District primary.
Brizzi said life was "legitimately terrible back then," but he was glad all of that happened to him. And he said his experiences made him a better candidate.
"I've been through the trenches," he told IBJ. "I don't think anyone has been more investigated or vetted than I have been, so I see it as a plus."
He practiced law in private practice after leaving the Prosecutor's Office, mostly business litigation.
He also had his own podcast, radio show and blog to share his thoughts about the latest political issues.
Please enable JavaScript to view this content.