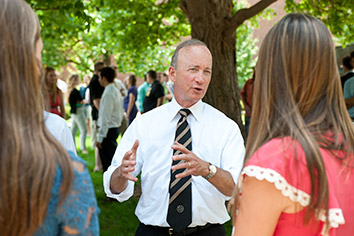 Staffers who worked under former governor Mitch Daniels filed with the Indiana Secretary of State's office last week to create a political action committee urging Daniels to run for governor in 2024.
Daniels led the state from 2005 until 2013 and announced his intention to retire as president of Purdue University at the end of the year. During his two terms as governor, Daniels curtailed state spending, implemented Daylight Savings Time and introduced the ground-breaking Healthy Indiana Plan.
Christine Hurst and Ben Ledo spearhead the committee as chairperson and treasurer, respectively, under the name Frugal Hoosiers for Mitch 2024. The organization, in its filing, simply says, "We are encouraging Mitch Daniels to run for Governor in 2024."
Hurst, Daniels' former communications director, previously worked at Angie's List before becoming the vice president of marketing at MakeMyMove, an Indianapolis-based relocation firm, according to her LinkedIn.
Ledo, the vice president of enterprise sales at MakeMyMove, also worked for Angie's List and held positions for nearly five years in various capacities in the Daniels' administration. During Daniels' initial campaign, Ledo drove Daniels around the state to various events in his signature-laden RV.
Ledo is also a board member for the Mitch Daniels Leadership Foundation.
The filing doesn't include any fundraising so far, but Hurst told The Indianapolis Star that a website would go live later this week to accept donations.
"We know he loves the state, and we know he's got big ideas," Hurst told the Star. "But not sure what he's going to do next, so we just are sort of gathering the voices to encourage him to consider running."
Gov. Eric Holcomb is term limited and cannot pursue another term in 2024. Daniels served two consecutive terms but politicians seeking the office can seek a new term after an eight-year gap. Publicly, Daniels has declined to announce his retirement plans following his time leading Purdue University.
Though several other prominent Republicans are rumored to be considering a run, including Lt. Gov. Suzanne Crouch, only Fort Wayne businessman Eric Doden has publicly announced his campaign.
The Indiana Capital Chronicle is an independent, not-for-profit news organization that covers state government, policy and elections.
Please enable JavaScript to view this content.