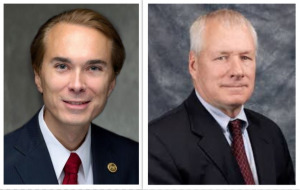 Former casino executive and state lawmaker John Keeler pleaded guilty in federal court Monday morning to one count of filing a false tax return as part of a scheme involving illegal political donations.
Keeler, 72, entered a plea deal just hours before his trial was set to begin Monday in the U.S. District Court. In exchange for the guilty plea, U.S. prosecutors agreed to drop Keeler's four pending felony charges, according to the 19-page plea deal.
The plea agreement details that Keeler secretly funneled $41,000 in casino cash into the Greater Indianapolis Republican Finance Committee, a political action committee associated with the Marion County Republican Party, in 2016. He then filed a false tax return under New Centaur LLC, the gaming company Keeler was executive of at the time, claiming the cash as a tax deduction.
Keeler could face a maximum sentence of three years, a fine of up to $100,000 and up to one year of supervised released after imprisonment. He also will have to pay $14,350 in restitution.
In addition to the false tax return charge, Keeler was indicted in September 2020 on four counts connected to an alleged scheme to use straw donors to illegally funnel about $40,000 in casino money to former Republican state Sen. Brent Waltz's unsuccessful 2016 campaign for the U.S. House.
Keeler's guilty plea comes a week after Waltz, who was also indicted in 2020, pleaded guilty to two felonies related to his role in receiving the illegal campaign donations.
Waltz, 48, pleaded guilty to making and receiving conduit contributions and to making false statements to the FBI, according to the Department of Justice. He faces up to five years in prison for each offense.
Keeler was formerly vice president of Indianapolis-based Spectacle Entertainment LLC, which owned and operated the Majestic Star Casino in Gary. The allegations against him and Waltz last year led the Indiana Gaming Commission to begin an investigation that affected the construction of a casino in Terre Haute as well as the ownership of a casino in Gary.
The Gaming Commission forced Keeler and another top executive, Rod Ratcliff, to give up their ownership stakes in the projects last year and eventually pulled the license for the Terre Haute casino away from the operators they had previously been involved with.
Spectacle was also acquired by Hard Rock International last year.
The indictments against Keeler and Waltz are related to an earlier investigation from January 2020 when Republican strategist Chip O'Neil, a vice president at Strategic Campaign Group, pleaded guilty to conspiracy in federal court in Virginia. He admitted to helping collect donations from small donors in the names of candidates who never received the money.
O'Neil said in court that at least eight people, including his girlfriend, were used as conduits for illegal corporate donations to a U.S. House candidate in Indiana. Court documents did not initially reveal the candidate, but Federal Election Commission records indicated the recipient of the funds was Waltz, a Republican who unsuccessfully ran for Indiana's 9th Congressional District in 2016.
Court records implicated an unnamed Indianapolis gaming company and its vice president and general counsel as part of the scheme. The Indiana Gaming Commission later acknowledged that company was New Centaur LLC, which at the time owned two race track casinos in Indiana, and the executive was Keeler.
Editor's clarification: An earlier version of this story said Keeler's guilty plea was connected to illegal contributions to a congressional campaign. Keeler admitted to working with an out-of-state political consultant to illegally funnel $25,000 to the Greater Indianapolis Republican Finance Committee, a political action committee associated with the Marion County Republican Party. Other charges that accused Keeler of directing illegal corporate contributions to congressional candidate Brent Waltz were dropped as part of Keeler's plea deal.
Please enable JavaScript to view this content.