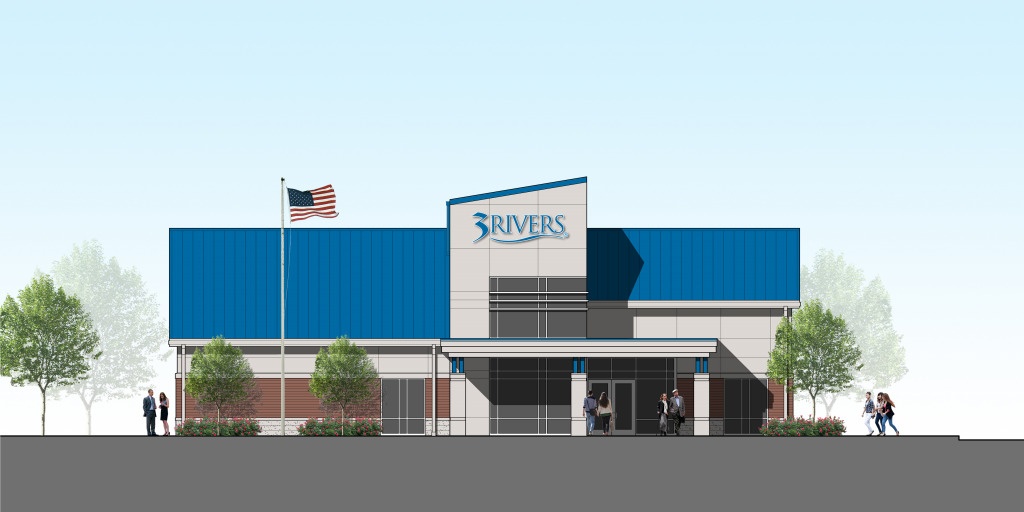 Fort Wayne-based 3Rivers Federal Credit Union plans to enter the central Indiana market by spending $7.5 million to construct branches in Pendleton, Fortville and Muncie, it announced Friday.
3Rivers, which currently operates 21 branches in northeast and east-central Indiana, said the new branches are expected to open by the end of the year.
The credit union is working with Fort Wayne-based Strategic Growth Advisors on the design and construction of the facilities. Each 3,000-square-foot building will feature an open concept with separate rooms for business, mortgage, and investment services, as well as separate drive-thru lanes and ATMs.
"We're excited to bring a new, local banking option and our unique approach to financial wellness to central Indiana," said 3Rivers CEO Don Cates in written remarks. "3Rivers has continued to grow and thrive with the trust of our members, and we believe our strong community brand and culture will prove to be a good fit and value to our new communities."
The credit union said the new locations will allow it to serve new members, providing them with access to expanded products, services, improved convenience, and advanced technology.
Despite the pandemic, 3Rivers has continued to experience organic growth in new members, deposits, and loan volume. It has nearly $2 billion in assets, over 110,000 members and more than 400 employees.
Founded in 1935, 3Rivers acquired Richmond-based West End Bank in June 2020, adding four branches in eastern Indiana and nearly $3 million in assets.
Please enable JavaScript to view this content.