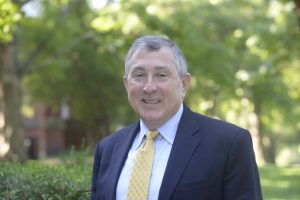 Franklin College on Monday named Kerry Prather as president, removing the "acting" from his title and suspending its search to fill the position for another year.
Prather was appointed acting president effective Jan. 14 after the school fired President Thomas Minar, who was arrested in Wisconsin on Jan. 6 and faces three criminal charges related to child solicitation.
Franklin said it plans to renew its presidential search in March 2021 with a goal of selecting someone to take office in summer 2022.
"The Franklin College Board of Trustees recognizes that Kerry Prather's steady hand, transparent communication style and committed servant leadership are needed during this time of transition to keep the college focused on the important work of doing what is best for students," Board of Trustees Chairman James Due said in written remarks. "The campus community and our alumni enthusiastically greeted Kerry's appointment as acting president, and today's announcement reflects the board's confidence in his abilities and leadership."
Prather, who has worked for the college since 1982, was most recently athletic director and previously served as head men's basketball coach. He has been called upon in the past to fill other leadership roles at the school, including assistant dean of students, associate director of admissions, acting vice president for enrollment management and acting vice president for administration.
"This is a very special place to me and to our family," Prather said in written comments. "At Franklin, our priorities are the students we are preparing and the faculty and staff who are creating paths for their success."
Prather is a graduate of Indiana University with an undergraduate degree in English and a master's degree in education.
Franklin, founded in 1834, has an enrollment of just over 1,000 students and offers 50-plus majors in 24 academic disciplines. Its 207-acre campus is in Johnson County, about 25 miles south of downtown Indianapolis.
Minar, 56, was named Franklin's 16th president on July 1, 2015. He announced in June that he would be leaving the school after the 2019-20 academic year, but didn't make it that far.
He was arrested after he arranged to meet what he thought was a 15-year old boy at a fast food restaurant in Sturgeon Bay, Wisconsin, saying he was attracted to younger men, according to a criminal complaint filed in a Door County, Wisconsin, circuit court.
He is charged with child enticement – sexual contact, use of a computer to facilitate a child sex crime, and exposing a child to harmful materials.
Please enable JavaScript to view this content.