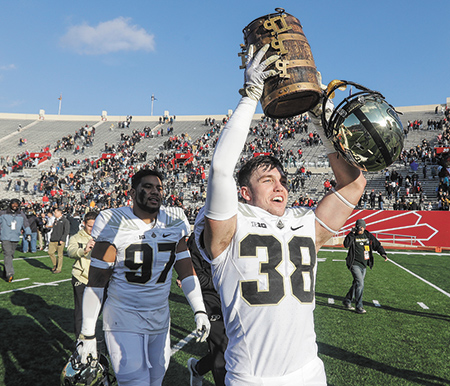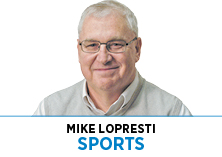 We interrupt the public vigil awaiting the answer to the question of the month—just what is really wrong with Andrew Luck?—to remind you the college football season begins soon.
And here's your 2019 virtual-reality season ticket. Every week, a game somewhere in the state, and a reason to be there—from the sunscreen and short pants of late August, to the parkas and ski caps of late November. May all your kickoffs be dry, and all your tailgate spreads be bountiful.
Aug. 31, Indiana vs. Ball State at Lucas Oil Stadium
You've probably heard all the speculation about the quarterback situation of the team playing in Lucas Oil Stadium. No, not the Colts—the Hoosiers. This game should tell us the winner of IU's three-armed race, or at least the leader at the moment. Indiana beat Ball State last season 38-10, but the Cardinals can always conjure up memories of 2011, the last time these two met in Lucas Oil. That was the first college game ever played in the place, and Ball State won 27-20.
Sept. 7, Spend a day at Terre Haute.
In the afternoon, catch Dayton at Indiana State to get a look at one of the nation's more astounding feats. Dayton has not been shut out for 476 consecutive games, going back to 1976. The Sycamores, expected to be an upper-division team in the Missouri Valley Conference, have set a record in season ticket sales.
At night, drive across town to watch Ohio's Mount Union at Rose-Hulman. ESPN recently put out a list of the top historical college football programs, and guess who was No. 16, in between national powerhouses LSU and Miami? Yep, Mount Union, with its 13 Division III national championships. Coach Vince Kehres hasn't had to work on having many post-defeat locker room talks ready. He's 84-5 in six seasons. The new synthetic turf should look great for Rose-Hulman. The scoreboard might not.
Sept. 14, Ohio State at Indiana, TCU at Purdue
A doable doubleheader, if you can get around the traffic. First, at noon, the Hoosiers and Urban Meyer-less Buckeyes. Memorial Stadium will likely have a big crowd—of Ohio State fans. Indiana has recently played the Buckeyes decently tough, but the ending always seems the same. The Hoosiers are 0-25-1 since 1988. When it's over, exit the stadium quickly, beat all the scarlet and grays heading back to Ohio, and get to Ross-Ade Stadium by the 7:30 p.m. kickoff with TCU, to see if Rondale Moore can make trouble for what is usually one of the nation's better defenses. These two programs haven't met in 49 years. The Boilermakers will repay the TCU visit with a game at Fort Worth, but no need to make flight reservations just yet. That'll be in 2029.
Sept. 21, Open
Every team gets a bye during the season; why not us? Fact is, the menu isn't great with in-state games this weekend. You can go to Connecticut-Indiana if you want—a game the Hoosiers almost certainly must win if they want to have a sniff of a bowl—but then find a good place to watch Notre Dame at Georgia on TV.
Sept. 28, Southwest Baptist at the University of Indianapolis
The Greyhounds have owned the Great Lakes Valley Conference, winning six titles in the past seven years, and are picked to do so again. This is a good chance to take a look at the juggernaut, since it's the homecoming game on the south side, and UIndy has won 12 of its last 13 of those.
Oct. 5, St. Francis at Marian
If the NAIA had an ESPN GameDay, it'd be visiting Indianapolis for the Franciscan Bowl. St. Francis is preseason No. 3 in the nation; Marian is No. 7. It has been a torrid series, tied at 7-7. Marian snapped St. Francis' 27-game winning streak last season with a 37-28 victory and has taken both playoff meetings between the two. But St. Francis has won the past two visits to Marian, 31-24 and 45-42.
Oct. 12, USC at Notre Dame
It's slightly remarkable that these two programs are separated by 2,000 miles but have met every season since 1945. Yet, the Irish couldn't keep Purdue on the schedule. This is one of the nights that will decide if Notre Dame is a serious player for the national championship.
Oct. 19, South Dakota State at Indiana State
South Dakota State is in the top five of every preseason FCS national ranking. All we ask is that it be as entertaining as last season's meeting. South Dakota State won 54-51 in overtime.
Oct. 26, Ohio at Ball State
What is expected to be the best team in the Mid-American Conference visits Ball State, and history might be on the table. Ohio's Frank Solich needs five victories to become the all-time-winningest coach in the MAC. Maybe he gets there in Muncie.
Nov. 2, Nebraska at Purdue
Is Rondale Moore a true candidate for Big Ten offensive player of the year? We'll know a lot more by the time this game rolls around, when the Boilers host a Nebraska program showing signs of revival. This has certainly been a lively series lately. In the past four seasons, Purdue has won 55-45 and 42-28, and lost 27-14 and 25-24.
Nov. 9, Davidson at Butler
Steph Curry's old school plays football, too. Cue up the films of their meeting last season at Davidson. Butler, down 41-38, is at the Davidson 3-yard line in the final seconds. Kick a field goal for the tie? Nah. The Bulldogs go for the win and are stopped at the 1. The game ends with 53 first downs, 953 total yards and not one punt.
Nov. 16, Wabash at DePauw
Wabash, DePauw, the Monon Bell. Really, need anything else be said about a game that has been played 125 times? Only that Wabash has won nine of the past 10, and the last three meetings have been decided by a total of 11 points.
Nov. 23, Michigan at Indiana
Yeah, yeah, the Hoosiers have dropped 23 in a row against the Wolverines. The last time Indiana won was the Reagan administration. But notice, please, Michigan's three most recent trips to Bloomington. Scary. The Wolverines won two in overtime, and the other by a touchdown. Sooner or later, it has to happen. Doesn't it?
Nov. 30, Indiana at Purdue
Old. Oaken. Bucket. The series has gone on long enough to include all manners of statistical quirks. Take 2012-2013, when Purdue won the first year 56-35 and Indiana the next 56-36. Or last season, when two 5-6 teams met with bowl eligibility on the line. Purdue won 28-21. The past three games have been decided by a touchdown or less.
Dec. 7, Big Ten championship game
This will be the ninth year for the game in Lucas Oil Stadium. Seven different conference schools have participated, none of them named Purdue or Indiana. Or Michigan. But if you're weary of football by then, Florida will be playing Butler at Hinkle Fieldhouse the same day.•
__________
Lopresti was a columnist for USA Today and Gannett newspapers for 31 years. He can be reached at mjl5853@aol.com.
Please enable JavaScript to view this content.