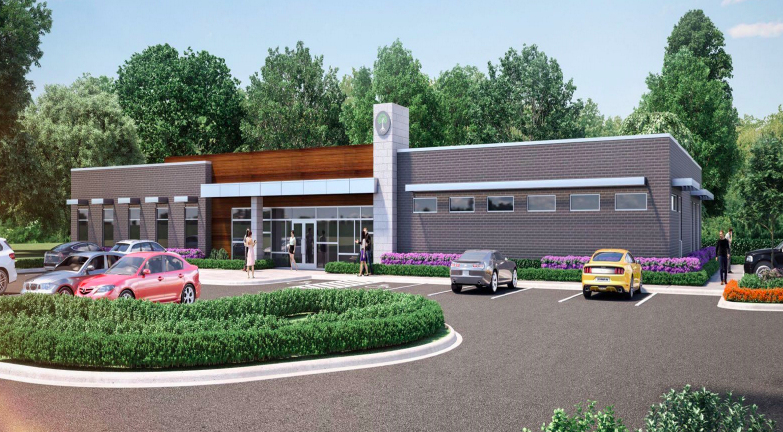 Be Well Family Care has seen such rapid growth since opening four years ago that owner Swathi Rao is building a new facility to triple the functional medicine clinic's footprint in Carmel.
Since April 2017, Be Well Family Care has operated out of a roughly 3,100-square-foot leased space at 11495 N. Pennsylvania St. The functional medicine practitioner assesses patients' history, genetics, environment and lifestyle to treat the causes of disease and prevent illness.
Rao said she has more than 100 patients on a waiting list, so she's looking to increase the practice's capacity by building a 9,183-square-foot clinic at 12430 Clark St.
"The demand is definitely there, and we literally have no space to meet them," Rao said. "We're doing our best to kind of move things along. The dream is to keep growing."
Conceptual designs for the project show a one-story building and 45 parking spaces on the 2.25-acre site. If it receives site plan and design approval from the city, the estimated $4 million project could open to clients by the end of next summer.
Included in those designs is a teaching kitchen that allows for patients with hypertension, for example, to come in and learn how to cook foods that will help lower their blood pressure.
Be Well works with dietitians, health coaches and chefs to put together informative classes and demonstrations for its patients and the greater community. Another alternative approach that distinguishes Be Well from other family clinics is its group instruction, which in the past has included karate lessons as well as dance and meditation.
It all speaks to functional medicine's aim of getting to the source of an illness, Rao said, rather than just treating it.
"We're really focused in on that, so we don't always have to use medicine as a treatment—though that's something we still clearly do," Rao said. "There's so many things you can do to optimize your health, and it doesn't have to just be taking a pill."
Rao graduated from Indiana University as a pre-med major in 1994 and from Butler University's Physician Assistant program in 2002. In 2015, she also received the Institute of Functional Medicine Certification for Functional Medicine.
The clinic's staff also includes four nurse practitioners and two doctors. Rao plans to grow her staff to as many as 10 health care practitioners in the new facility.
"I thought we would be where we are today in 10 years, but we hit that at the three-year mark," Rao said. "Finding qualified providers is just a matter of time."
In addition to growing staff, Rao said she plans to accommodate more than just those clients on the waiting list. By incorporating virtual meetings, she said she hopes to increase capacity beyond the new facility's physical space.
Please enable JavaScript to view this content.