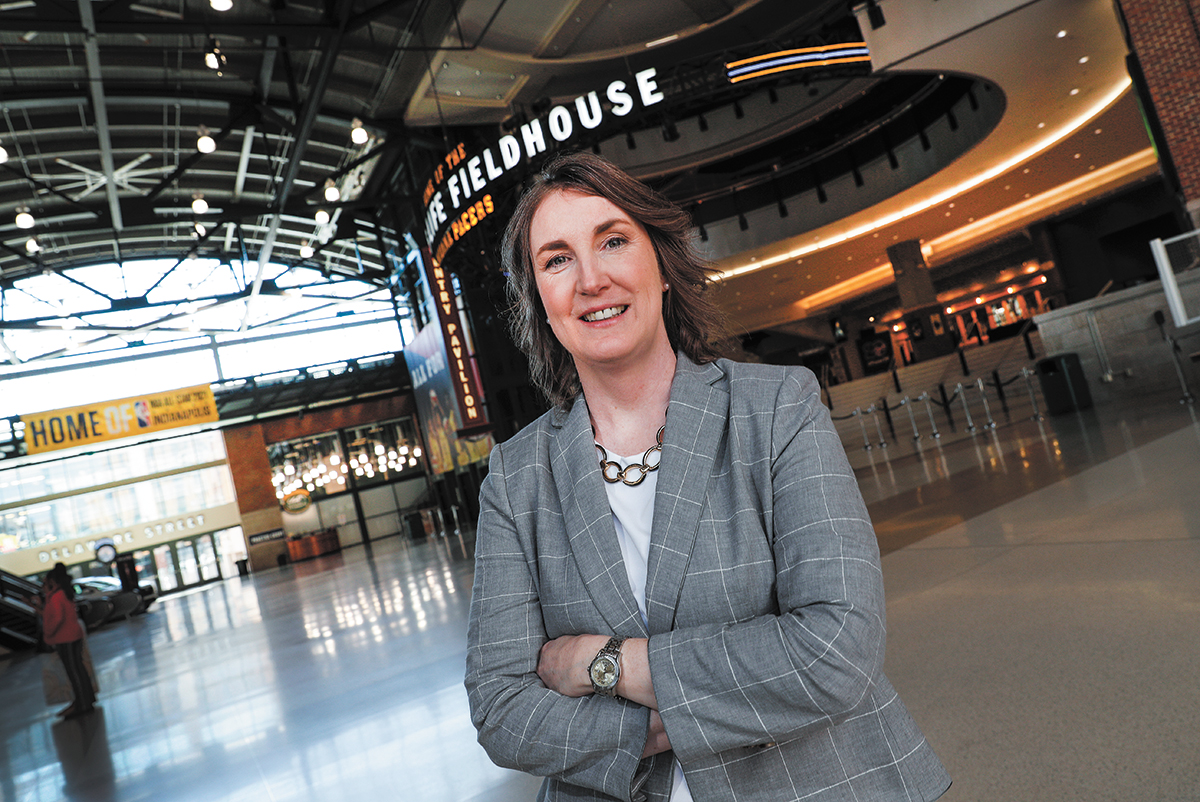 Mel Raines will be recognized by the Sports Business Journal later this year as a "Game Changer," which honors 50 women every year who are making a remarkable impact in the sports-business industry across the globe. She plays a major role in Pacers Sports & Entertainment's facility operations—including management of the $360 million Bankers Life Fieldhouse renovation—and community engagement and communications efforts.
How significant was it for you to be named to this list?
It means a lot. Kelly Krauskopf received this award in one of the earlier classes—obviously, she's a colleague of mine and a close friend, as well as a mentor for me as I've transitioned to the sports arena. So, it means a lot to follow in her shoes and the shoes of a lot of really impressive women who work in every area of sports.
Your role has changed quite a bit with the Pacers since you first began in 2015, right?
When I first started, we were beginning the master plan process for the Fieldhouse of the Future construction and starting to plan for the All-Star Game. When we had a retirement on our senior team, Rick Fuson gave me the opportunity to be promoted into my current role.
I've done a lot of communications work in my previous positions, as well as the community engagement aspect, so those were pretty natural areas for me to add on to my portfolio. But it's certainly a unique portfolio for someone in my position, I think, for an NBA team.
How did the pandemic affect your stress levels, particularly as you were taking on that more significant role?
March and April of 2020 were two of the more stressful months of my career—and in my life in general—in part because I had just picked up my new roles.
A couple of things helped me cope with that. One, I've got a great team. Two, I took a lot of walks on the near-east side by my home. I did a lot of conference calls while walking around that area. It just helped to be outside and not sit in my house.
How has the role of women in professional men's sports changed since you've been with PSE?
The NBA, I think, is perhaps the best of the four major male professional sports leagues in terms of diversity in their workforce. I'm close to a lot of my counterparts with the NBA and NHL buildings, and there are more women running them than when I started. I think it will continue to grow.
But my goal is not to be a really good woman who runs an NBA arena; it's to be the best person who runs an NBA arena, who has the best arena, which I think we do. I don't feel pressure because I'm a woman, though. I feel it just because that's the kind of drive that I have as a person.
What are you most looking forward to in the next year?
I am most looking forward to opening our doors this fall with a full crowd, finally getting to see the building we've been transforming for them. We've got a lot of great events on the calendar, as we normally do, with more things being added on a regular basis. Seeing all those great things is what I'm most looking forward to.•
Please enable JavaScript to view this content.