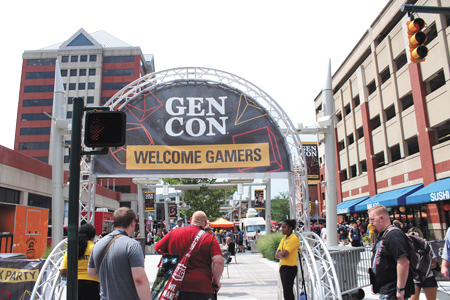 As Gen Con prepares to set up at the Indiana Convention Center this week, the group's leadership on Wednesday sent a stern message to Indiana lawmakers about a proposed bill that would result in a near-total abortion ban.
Leaders of the tabletop gaming convention—one of the city's largest events each year—said they are prepared to consider leaving Indiana if Senate Bill 1, a Republican-backed piece of legislation that aims to strictly limit abortions in the state, becomes law.
"We at Gen Con believe in the right to autonomy over our bodies and the right to choose. Reproductive rights are human rights. Like many of you, we are hurt, angry, and frustrated by recent events, including the recent advancement of SB1 by the Indiana General Assembly," Gen Con's statement said. "These actions have a direct impact on our team and our community, and we are committed to fighting for safety, tolerance, and justice in all the places we operate."
The bill, now making its way through the General Assembly as part of the ongoing special session, would ban abortion at conception except for narrow exceptions for fatal fetal anomalies, rape, incest and the life and health of the mother.
The language is facing extensive pushback, both from those who feel it is too broad or unnecessary altogether and others who believe it doesn't go far enough in curtailing abortions. Several changes have been made to the bill in its travels through the House and Senate.
While Gen Con's statement stopped short of indicating whether the organization would end its relationship with the state over the matter, Gen Con president David Hoppe said later Wednesday at a press conference that it was a possibility.
"Despite our enthusiasm for this year, I want to note that we are deeply troubled by the action currently under way in the Indiana General Assembly," he said. "Passage of Senate Bill 1 will have an impact on our stakeholders and attendees and will make it more difficult for us to remain committed to Indiana as our long-term annual home."
It's the first instance of a major Indianapolis trade show or convention publicly pushing back on the bill.
It's also the first major push against proposed state legislation by a convention group since the Religious Freedom Restoration Act sparked extensive backlash in 2015.  
Set to run Thursday through Sunday, Gen Con is continuing to take a more cautious approach to public health for its event, requiring that staff and attendees wear masks and show proof of full vaccination amid the COVID-19 pandemic.
The Seattle-based group has been a staple of the Indianapolis tourism calendar since 2003, and is set to meet in Indianapolis through at least 2026. It's been among the loudest proponents of the upcoming expansion and hotel addition at Pan Am Plaza, which aims to keep Indianapolis a feasible site for Gen Con and other major conventions.
Over the past 20 years, the convention's economic impact and attendance figures have grown extensively. It drew about 22,000 people in 2004, bringing about $25 million to the city. In 2019, the last event before the pandemic, Gen Con generated about $74 million and brought in 70,000 visitors.
Chris Gahl, vice president of Visit Indy, said a few other conventions, which he declined to name, have also reached out to discuss the bill with local tourism officials.
"In addition to Gen Con, there are a handful of other conventions we know are closely watching what's happening at the Indiana Statehouse," Chris Gahl, vice president of Visit Indy, said. "All of our large annual conventions are constantly being peppered by other cities asking them to pull out and come over to their city. So, we viciously protect groups like Gen Con and work year round to … grow them [in Indianapolis]. With that in mind, our nonprofit will keep working with Gen Con to keep them safe and sound."
Please enable JavaScript to view this content.