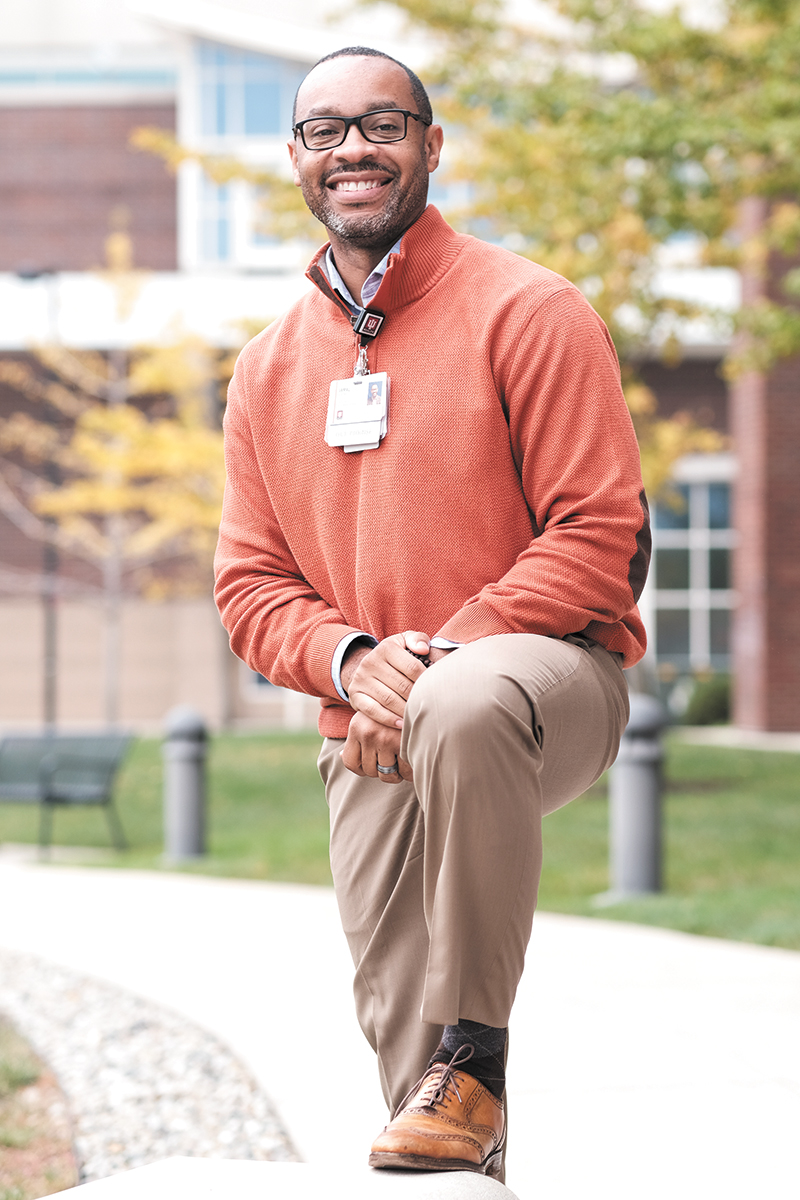 Jamal Smith applies lessons from his own hardscrabble childhood to all his jobs. Raised by a single mom, he got through school by getting involved in sports and extracurriculars and earned two college degrees. He worked for former Gov. Mitch Daniels as senior adviser for minority affairs and executive director of the Indiana Civil Rights Commission.
Smith, 43, is now director of strategic partnerships at Indiana University Health, where he designs and runs programs to help communities overcome social impediments to good health.
How did your childhood prepare you for your career?
My mother was a single mom who raised me and my brother by herself. At the time, she didn't even have her GED. She refused to take social welfare. Her motto at the time was, "We need to see somebody get up and go to work every day."
She usually had two or three jobs. She cleaned up these people's homes who lived on the other side of town. She was like a nurse's aide at one point. My childhood becomes relevant as we are working to address social impediments, because, for me, it's not a 30,000-foot view where I'm hoping what we're doing is working. I actually went through it, lived it.
You studied history at Wright State University in Dayton. Why did you choose that major?
In college, I learned that my high school experience didn't legitimately expose me to African American and African history. And so, given the opportunity to dive deeper into that, I took it and learned a lot about the history of my people, my culture.
You were assistant coach for the basketball team at Arsenal Tech when it won the state title in 2014. What was the secret to winning that title?
Jason Delaney, who's a hell of a high school coach, kind of recruited me to come help coach. We started at George Washington High School. And I think the first day of tryouts at that high school, we had nine kids show up for tryouts as freshmen, JV and varsity, total. For basketball in Indiana! But we were able to put together a team and we did well.
Then Jason went to Arsenal Tech, and I went with him. The first day of tryouts, 13 kids showed up. And then we started to build a program. We took a cumulative snapshot of the kids' [grade point average] and I want to say it was south of 1.5. In implementing the program, we required community service. We would have guest speakers come in and speak to the boys about life skills. Three years later, that cumulative team GPA ballooned to a 3.2. I think that catapulted us to a state championship.
Now you're with IU Health and have an outreach program with Crispus Attucks. What are your goals?
Our CEO, Dennis Murphy, has made it clear that he wants to ensure that, by the time the new downtown medical campus is done, that IU Health is more than just a hospital, that we end up with more than just another building. We want to have an impact in the neighborhoods. So we selected Crispus Attucks for three reasons. One, it's right in the back yard. … Secondly, it was already a medical magnet, a health sciences high school. And third, there were remnants of past relationships over the years. So we set up a fellowship. Any kid who comes through it, we guarantee them automatic employment with IU Health.
At one point in your career, you were director of marketing for U.S. Synchronized Swimming. Can you do the eggbeater or the torpedo?
Yes, I can. You wouldn't want to put me in the competition, but I can do it.•
Please enable JavaScript to view this content.