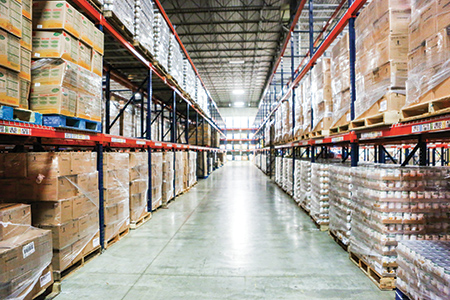 Indianapolis-based Gleaners Food Bank of Indiana hit a major milestone this year while distributing a record amount of food and other critical items across nearly two dozen counties.
Launched in April 1980, the not-for-profit crossed the threshold this year of distributing more than half a billion pounds of goods over the life of the organization. And it doesn't plan to slow down.
"With the help of our community, Gleaners is uniquely positioned to make a difference, but we must grow and evolve dramatically to close the meal gap and deliver solutions to our neighbors in a sustainable way," John Elliott, Gleaners president and CEO, said in a media release.
Delivering grocery items to hunger relief agencies and schools throughout 21 central and southeastern Indiana counties, Gleaners expects to distribute a record 42.2 million pounds of goods in 2019. That represents a 57.7% increase over 26.8 million pounds distributed in 2016.
However, Gleaners says that it only meets 42.7% of the meal gap in its service area. Hoosiers in the area still miss more than 53 million meals each year.
Under a new strategic plan, Gleaners will try to close that gap by 2023, which will require distribution of 100 million pounds annually.
Gleaners' strategic plan also looks to increase the nutritional content of those meals and lower the cost per meal. Meal costs have decreased from 41 cents in 2016 to 20 cents this year.
Gleaners hopes to reach a 13-cent meal cost in 2023 by making more efficient use of donated food, expanding produce distribution, taking advantage of Indiana's status as a leading transportation hub and optimizing the logistics behind the organization's distributions.
"For Gleaners to seek both dramatic increases in quantity and quality of food is harder, it's more challenging, but that's what we believe the clients need from us," Elliott said.
Although Gleaners still needs to see increased revenues from donations, the organization also is looking to diversify its revenue streams in coming years.
"It's more a matter of not having what has historically been 95% of more or Gleaners' revenues be from donations," Elliott told IBJ on Friday. "It's more a matter of diversifying or changing the mix of revenue so there's less pressure on donations."
Already, Gleaners has boosted its alternative revenue streams by inviting suppliers and vendors to co-locate in its facilities. In addition to receiving rent, sharing space with suppliers has eliminated inbound freight costs and reduced the final price of distribution by 25% to 40%.
Those savings will be crucial to help pay for building improvements in coming years that could could run in the millions of dollars.
The organization is planning a fundraiser on Sept. 11 at the Indiana State Fairgrounds to mark its 40th anniversary.
Please enable JavaScript to view this content.