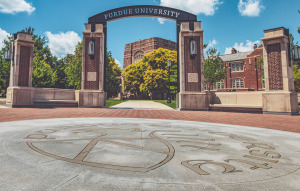 It was a reorganization that paid off in spades.
When Purdue University overhauled its alumni and fundraising operations in 2020, the goal was to merge more than a dozen campus groups—many of which were duplicating efforts or operating at cross purposes—into one cohesive operation.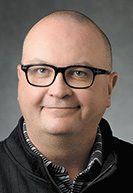 "We broke down a lot of silos between schools and colleges and took the shackles off a lot of our fundraisers to go out and do things," said Matt Folk, president of the Purdue for Life Foundation, the new organization that acts for the benefit of the university and its alumni.
Today, Purdue is racking up fundraising numbers that few organizations in Indiana can match.
Last year, the West Lafayette-based research university pulled in five of the top 10 individual gifts made to Indiana institutions, including three gifts of $10 million or more, according to an IBJ review.
Altogether, Purdue received at least $80 million in individual gifts last year of $1 million or more, ranging from $25 million—the largest statewide—to $1 million. That made it the top institution in the state for landing major gifts.
(Purdue said it pulled in at least eight additional gifts of $10 million or more, but it did not offer a breakdown by gift amount, making it difficult to verify. In addition, some of those gifts were anonymous.)
Other big institutions around Indiana also had a big year, pulling in plenty of eight-figure gifts from individuals, family foundations or bequests. DePauw University, the University of Notre Dame and Ball State University all landed gifts of $10 million or more.
But plenty of other institutions—from Riley Children's Foundation to Girl Scouts of Central Indiana—had a good year, pulling in gifts of $1 million or more.
Across Indiana, hundreds of colleges, museums, arts organizations and other institutions count on individual gifts for a significant portion of their revenue.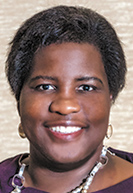 Altogether, institutions landed 54 gifts of $1 million or more, for a total of $241 million, or nearly 8% higher than a year ago.
Across the United States, giving was up last year, although many institutions had to work harder than ever, as the number of givers shrank, said Claudia Cummings, president and CEO of the Indiana Philanthropy Alliance, a not-for-profit network of foundations, companies and social investors.
"We have seen a continual reduction in the number of overall givers, but an increase in the amount of funds being given," she said. "That means that those with more means are giving even more than they have in the past."
Tougher job
In the face of that, institutions are having to work harder than ever to reach the shrinking number of wealthy givers.
For Purdue, courting alumni and other supporters has meant a continual effort of reaching out, staying connected and keeping donors excited about their love of the gold and black.
Mitch Daniels, then president of Purdue, took the first step in 2019 when he formed a committee to recommend a vision and plan to advance the university "by increasing a sense of value among alumni" in their continued association with the school, according to the Purdue website.
In 2020, the committee proposed an integrated engagement and advancement model. The university's board of trustees and the Purdue Alumni Association board approved the proposal. The Purdue for Life Foundation was announced in March 2020.
"The Purdue for Life Foundation now really runs everything, from when you graduate until death," Folk said. "The new organizational structure really got things cooking."
What it did was streamline the "Purdue experience" for alumni and donors through special events, travel opportunities, communications and operations.
The new organization ended up merging about 16 groups on campus, Folk said, and then, with cost savings in hand, created 15 groups to support everything that was "alumni-facing," such as get-togethers, sports events and other ways to stay connected.
It was really about putting more voltage behind traditional alumni operations. The foundation oversaw about 125 Purdue for Life events in the 2021-2022 academic year, including 90 in-person events like the Boilermaker Ball (a black-tie dinner-dance), Purdue@WrigleyField (a tailgate party near the ballpark, before the Purdue-Northwestern football game), and a host of smaller events like fun runs, international mixers, and informal cocktails and dinners.
Eliminating all the duplication was one of the top benefits, Folk said.
"It was a matter of taking all of these independent groups and putting them into one, and using one marketing team and one events team and one engagement team, that sort of thing," he said.
Overall, the Purdue for Life Foundation raised $542.1 million in individual and corporate gifts in the academic year ending June 30, Folk said. That was an increase of about 30% from a year earlier, and roughly double what the university was landing in gifts in 2013.
More than 80,000 donors sent money, many in sums of hundreds or thousands of dollars. But a few added many more zeros to their checks, with the effect that people took notice of the gifts and the givers.
The top individual gift in Indiana last year was to Purdue—$25 million from venture capitalist and alumnus John Martinson, who earned a master's degree in 1971 in aeronautical and astronautical engineering and is chair of Pennsylvania-based Martinson Ventures. His gift was directed toward the Honors College, a residential, interdisciplinary college that seeks to build student leaders.
Likewise, the second-largest individual gift in Indiana last year was to Purdue—$20.8 million from the Dean and Barbara White Family Foundation to create a real-estate finance program. Dean White was a billionaire and longtime real estate and advertising executive in northwestern Indiana who died in 2016.
White never attended Purdue (his degree was from the Merchant Marine Academy in Kings Point, New York) but his son Bruce graduated from Purdue and is founder of hotel operator White Lodging.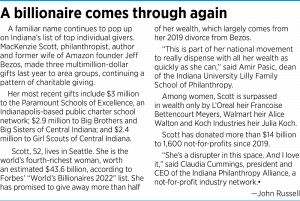 Public universities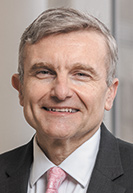 Overall, the vast majority of large gifts in Indiana—including all of the top 10—were given to colleges and universities. Eight were public universities.
"It's remarkable that so many public institutions are receiving these large gifts," said Amir Pasic, dean of the Indiana University Lilly Family School of Philanthropy. "I'm not sure that would have been the case 20 or 30 years ago. But over the last few years, public institutions have really stepped up their game in terms of fundraising and making the case for why they should be receiving large philanthropic gifts."
Purdue administrators are the first to agree they are shifting to a model that more aggressively and deliberately seeks large private gifts, not waiting for public funding.
"We're acting much more like a private school from a fundraising standpoint every day," Folk said.
It might seem odd that a public university like Purdue, supported by taxpayers, would need to aggressively tap its alumni for funds. The university, after all, receives state funding for operations, repair and maintenance, construction, and debt service.
But funding for many public universities has decreased in recent years. Thirty-two states spent less on public colleges and universities in 2020 than in 2008, with an average decline of nearly $1,500 per student, according to a report from the National Educational Association.
"State funding, across the board, seems to be going down at these higher institutions, and ultimately they are competing with the private institutions [for gifts]," said Gideon Taub, chief strategy officer at Indianapolis-based Ren Inc., a philanthropic-services company.
One thing that sets Purdue apart from many universities: It has held tuition flat for about a decade, winning plaudits from student and consumer groups. The university has also reduced meal-plan rates for students, frozen housing costs, and cut the university's cooperative education fees. But that has meant it has had to turn to other sources for revenue, including alumni.
But to hear Purdue officials tell it, alumni are completely on board with the game plan. Purdue has more than 575,000 alumni, and at least 10% donate every year.
"Alumni are really, really buying into this whole strategy of donating to try and make sure we can keep tuition flat," Folk said. "We are getting our message across."•
Please enable JavaScript to view this content.