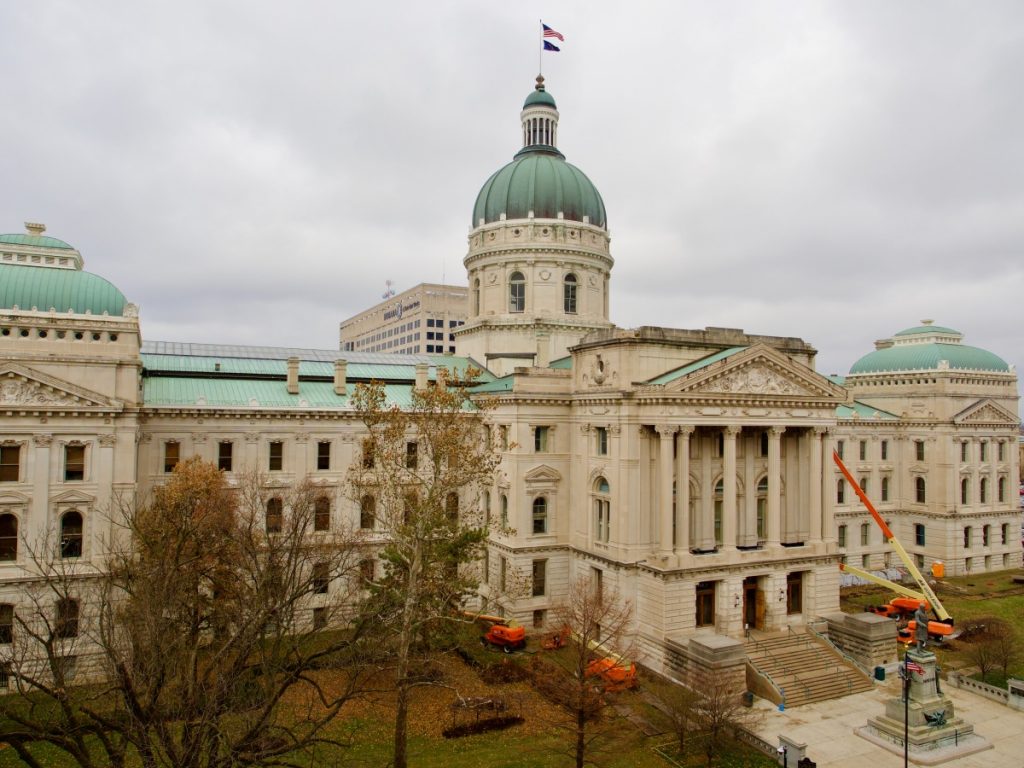 Indiana lawmakers are trying to broadly expand the definition of panhandling so that it effectively bans the activity in all of downtown Indianapolis.
The proposed change, which was added to Senate Bill 335 during a House Courts and Criminal Code Committee meeting on Wednesday, would make panhandling illegal within 50 feet of any ATM; entrance or exit of a bank, business or restaurant; public monument; or place where any "financial transaction" occurs.
The bill's definition of "financial transaction" includes any exchange of money that is received by a business, parking meter, parking garage, public transportation authority facility or pay station, or restaurant.
That means panhandlers could not solicit anyone within 50 feet of parking meters. The bill is "clearly designed to drive this sort of activity away from downtown," said Ken Falk, legal director for the ACLU of Indiana.
Current state law makes it a criminal offense to panhandle within 20 feet of an ATM or entrance to a bank or when the individual being solicited is at a bus stop, in a vehicle or in the sidewalk dining area of a restaurant.
The House Courts and Criminal Code Committee approved the bill unanimously, making it eligible for consideration by the full House.
Falk said the ACLU already views the state's current panhandling law as unconstitutional because it limits certain types of expression while allowing others. He said the proposal to make the law even more restrictive is "excessive and it strikes me as clearly unconstitutional."
"There is no place that a person downtown is going to be able to engage in activity in which courts have held is clearly protected by the First Amendment," Falk said.
But House Speaker Brian Bosma, R-Indianapolis, said the legislation is similar to language that has been used in other states and upheld by courts.
Bosma criticized the city of Indianapolis for not better handling its panhandling situation, which he described as "out of control." He said he's heard from visitors who say they came here for a convention but have decided they won't return because of all the panhandling downtown.
"I think it's very appropriate that we deal with it," Bosma said. "The city council has been unable or unwilling to do so. And again, that's their job. But this is our state capital and it's impacting economic development."
Bosma said his office and the city of Indianapolis have been discussing the issue and he believes they found "a reasonable compromise" with the language that was added to SB 335.
Representatives of the Indy Chamber and Visit Indy testified in support of the new panhandling definition. No one testified in opposition to it.
In a statement, Indianapolis Mayor Joe Hogsett's office did not take a position on the issue.
"As with all changes to the criminal code, should the amendment to SB 335 pass into law, we will work closely with our Marion County public safety partners to study its effect on our law-enforcement efforts," Hogsett's spokeswoman, Taylor Schaffer, said in an email to IBJ.
House Democratic leaders said Thursday afternoon they were not familiar with the language, but state Rep. Robin Shackleford, D-Indianapolis, said panhandling rules should be set at the city level.
"It sounds like another one of those overreaching bills of which we think we can do it better at the state," Shackleford said.
Senate President Pro Tem Rodric Bray also wasn't aware of the amendment on Thursday afternoon, but said panhandling in downtown Indianapolis is "a growing problem."
"I acknowledge the city of Indianapolis is trying," Bray said. "It's a difficult thing to fix."
The city of Indianapolis has taken some steps toward addressing the problem in recent years. For example, in February 2019, the City-County Council approved spending $300,000 on services to assist the homeless and panhandling population.
In 2018, Republican Councilor Mike McQuillen introduced a proposal to ban people from sitting and lying down in downtown's Mile Square, but he withdrew the measure after it sparked criticism.
Please enable JavaScript to view this content.