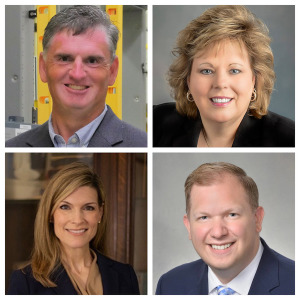 Four candidates will square off this weekend in the race for the Republican nomination for Indiana state treasurer in a convention battle that will measure the value of financial skills and the power of candidates' political connections.
Pete Seat, 39, certainly has the connections, even amid party in-fighting over which candidate has the best conservative credentials.
Seat was deputy assistant press secretary to former President George W. Bush, executive director of strategic communications for the Indiana GOP and communications director for Dan Coats' 2010 U.S. Senate campaign and Eric Holcomb's successful 2016 gubernatorial run.
Today, he is vice president at Bose Public Affairs Group, where he specializes in communications, brand management and executive media training.
Seat still faces spirited competition for delegates' votes at Saturday's Indiana Republican Party nominating convention in Indianapolis from candidates who have their own political reach and financial leadership experience.
His opponents are: Daniel Elliott, Morgan County GOP chairman and president of the county's redevelopment commission; Lana Keesling, a two-term Fort Wayne city clerk and former corporate financial officer; and Elise Nieshalla, a real estate investor and president of the Boone County Council.
All are vying to succeed two-term state treasurer Kelly Mitchell, a Republican who is term-limited and can't seek re-election. The winning nominee will face Democratic candidate Jessica McClellan, currently the Monroe County treasurer, in the November election, seeking to become the state's chief investment officer in charge of managing Indiana's $10 billion investment portfolio.
The state treasurer also serves as chair of the Indiana Bond Bank, the Statewide E-911 Board, the Indiana Education Savings Authority, the ABLE Authority, and is sole trustee of the State Police Pension Trust.
Elliott, 52, emphasized his nine years on the Morgan County Redevelopment Commission and more than 20 years working in technology and cybersecurity in preparing him to be treasurer. "It fits my strengths and things I am passionate about and can do," he said.
He has owned software and cybersecurity company, Intelli-Leap, for 15 years. If elected, he said he would develop cybersecurity standards local governments can adopt and lobby for state funds they need to protect themselves. Elliott added he would make sure his office uses safe investing strategies, works to grow the state's portfolio, and helps local governments expand broadband internet access.
Keesling, 60, the Fort Wayne city clerk, pointed to her corporate and small business experience, master's degree in business administration, and 16-year GOP service in Jennings and Allen counties, now as vice chair of the Allen County Republican Party.
Before becoming clerk, she was chief financial officer for Commercial Warehouse & Cartage, Inc., in Fort Wayne, where she managed finance, information technology and human resources. Prior to that, she owned a small business for 10 years.
"I'm the only candidate with full-time government experience and 30 years of finance experience, managing millions of dollars and a retirement plan and hundreds of employees," she said.  "This isn't a stepping stone to something else."
Keesling said she wants to expand the state's new Educational Scholarship Program, create more investment options for CollegeChoice 529 accounts, and help counties hire more 911 dispatchers.
The fourth candidate, Elise Nieshalla, 50, of Zionsville, has worked 20 years as a real estate investor, overseeing management of a portfolio of investments. She also is vice president of the Indiana County Councils Association. She did not respond to several requests for an interview with IBJ.
Seat, who is probably the most well-known treasurer candidate in GOP circles, said his roles in communications for top Republican campaigns and at the White House, will serve him well.
"I think my background is in perfect alignment with what the job actually is, not what people think it is," Seat said. "When you are nominating an elected official, you're looking for the face and voice of the office, someone who knows what they know and what they don't know and can build a team to execute the plan and deliver meaningful results."
Seat plans to encourage employers to incentivize saving for post-secondary education by offering matches to 529 plans or lump sum contributions to employees; advocate that Congress raise the qualified onset disability age from 26 to 46 for the investment program, Achieving a Better Life Experience (ABLE); and work with local governments to strategically target capital investment opportunities.
The Republican convention on Saturday also will feature a four-way race for the GOP nomination for secretary of state.
Please enable JavaScript to view this content.