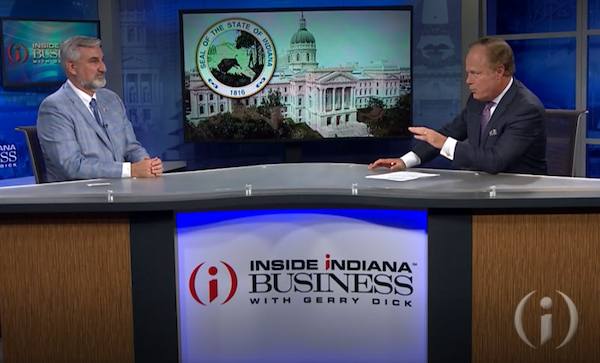 Gov. Eric Holcomb and a delegation of Indiana economic development leaders are visiting Taiwan and South Korea this week to tout the Hoosier state as a key place for Asian companies to invest and manufacture computer chips and electric vehicle batteries.
"Both [sectors are] equally important because they both represent goals of ours to be a leader in the future economy," Holcomb said in an interview on the "Inside INdiana Business with Gerry Dick" television show. "And not just for economic reasons, but also national security reasons."
The Indiana delegation, which includes a contingent from Purdue University and the Indiana Economic Development Corp., landed Sunday morning in Taipei, according to a press release issued by the IEDC. Their trade mission comes a little less than three weeks after U.S. House Speaker Nancy Pelosi's visit to Taiwan, which caused rising tensions between China and the United States over the self-governing island that Beijing says must come under its control.
Holcomb is believed to be the first American governor in three years to visit Taiwan. Traveling with him are Indiana Secretary of Commerce Brad Chambers, Purdue University College of Engineering Dean Mark Lundstrom and other officials. They are scheduled to meet with Taiwanese business and academic leaders and government officials.
The IEDC said the cost of the trip is being paid with private donations to the Indiana Economic Development Foundation.
Taiwanese investment could be particularly key to Indiana's hopes of developing as a regional hub for the research, development and manufacturing of semiconductors as the United States works to ease its reliance on overseas supply chains for computer chips and other technology supplies.
Taiwan has 90% of the manufacturing capacity for the world's most advanced semiconductors, according to Boston Consulting Group. The United States now produces 10% of the world's semiconductors, a steep drop over the past 30 years even as computer chips have become critically important in the nation's defense systems and can be found in everything from cars to smartphones to medical equipment.
"We've got a long way to go, and we in America have given up too much of the terrain in the past," Holcomb told Inside INdiana Business.
Now the state and nation are leaning more heavily into that sector, thanks to the passage of the federal CHIPS Act. The $280 billion bipartisan bill, signed into law earlier this month by President Joe Biden and championed by Indiana Republican U.S. Sen. Todd Young, is intended to counter China's rising influence, particularly in critical semiconductor manufacturing.
The measure also could provide necessary funding for Indiana to finalize commitments by SkyWater Technology Inc. to open a $1.8 billion semiconductor production facility in West Lafayette.
Indiana also hopes to become one of 20 regional technology and innovations hubs envisioned by the legislation. The hubs would bring together state and local government, university researchers, labor unions, businesses, and community-based organizations to create regional partnerships in the technology, innovation, and manufacturing sectors, according to a White House fact sheet.
The hubs are intended to create jobs, spur regional economic development, and position communities throughout the country to lead in high-growth, high-wage sectors such as artificial intelligence, advanced manufacturing, and clean energy technology.
In addition to meeting with microelectronics companies in Taiwan, Holcomb and his team also will be checking in with the 10 Taiwanese companies that already or soon will have a presence in Indiana. Those companies include MediaTek, which recently announced it is partnering with Purdue to establish a new chip design center on the West Lafayette campus.
"We'll be going to say thank you to longtime friends who have done business here … ," Holcomb said. "We have a long relationship with trusted, shared values, and we want to grow together with them as well."
The Indiana delegation also will visit South Korea, home to 12 companies with businesses in Indiana. Among them are Samsung SDI, which has signed an agreement with carmaker Stellantis to build a $2.5 billion electric vehicle battery plant in Kokomo. Incoming Purdue University President Mung Chiang will join the delegation for the South Korean leg of the trip.
South Korea also is home to LG Energy Solutions, another company eyeing Indiana. It is in a joint electric-vehicle battery venture with General Motors Co. that has filed for a tax abatement application that could bring a $2 billion plant and more than 1,000 jobs to the South Bend area.
Holcomb didn't discuss Chinese tensions over Taiwan during his interview with Inside INdiana Business. Neither does the news release announcing the trip. The Chinese government generally does not like for Taiwan officials to meet with foreign government leaders, especially someone of Pelosi's stature.
After Pelosi's Aug. 2 visit, China responded by sending missiles, warships and warplanes around Taiwan for several days. Twelve days later, a visit by five members of Congress also irritated Chinese officials.
The Associated Press contributed to this report.
Please enable JavaScript to view this content.